The National Hollerin' Contest (1969-present)
Every year, on the third Saturday of June, in an otherwise sleepy borough of southeastern North Carolina known as Spivey's Corner (population 49), some 5,000-10,000 folks gather from far and wide to take part in the festivities and entertainment in the day-long extravaganza known as the National Hollerin' Contest.
You may have heard of the contest -- since its inception in 1969, the contest has garnered attention and fame throughout both the country and the world. The contest and its winners have been featured on television shows such as The Tonight Show and Late Night with David Letterman, in magazines with worldwide circulations such as Stars and Stripes and Sports Illustrated, and have even been the subject of documentary films, featured on The Voice of America, and mentioned in television sports commentaries.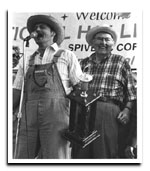 Responsible for the publicity surrounding the unique event is one of the contest's founders and self- described "master promoter," Ermon H. Godwin. The contest began almost 30 years ago in 1969, when on a weekly radio broadcast with fellow contest founder and area resident John Thomas, Godwin jokingly suggested reviving the "lost art" of hollerin' by holding a contest, the proceeds from which would benefit the Spivey's Corner Volunteer Fire Department. The first contest flooded the town (then population 48) with participants and observers, including the mainstream press. The day's events featured not only the promised hollerin' contest, but other contests, pageants and games as well, such as a biggest bell pepper contest, a watermelon roll and a square-dancing jamboree. Over the years the publicity efforts surrounding the contest have been unusual, if not down-right wacky: past invitees to the contest include former US president Ronald Reagan, the Shah of Iran, the 1984 Olympic Festival, the 1985 Super Bowl, and the USS Midway Aircraft Carrier. (Godwin, Ermon and Oscar Bizzell, Hollerin' Revived at Spivey's Corner, 1993, p.68).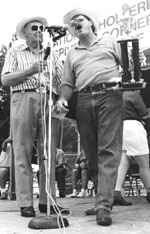 Since the first contest, the annual event has become a summer ritual for many. Contestants convene in Spivey's Corner on the Midway High School football field from around the world, although only one hollerin' champion has hailed from outside Sampson County (H.H. Oliver, '70 champion, who hails from neighboring Wayne County). Currently, the day's events feature five contests: the Whistlin' Contest, the Conch Shell and Fox Horn Blowin' Contest, the Junior Hollerin' Contest, the Ladies Callin' Contest and, of course, the National Hollerin' Contest. (A separate "calling contest" [wives called their husbands in from the fields] was created for women hollerers in 1976 so the main contest is a men-only event.)