Return to Naval History and Heritage Command home page.

Return to Online Library listing


DEPARTMENT OF THE NAVY -- NAVAL HISTORY AND HERITAGE COMMAND
805 KIDDER BREESE SE -- WASHINGTON NAVY YARD
WASHINGTON DC 20374-5060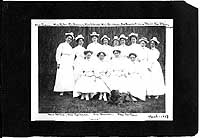 Online Library of Selected Images -- Photo Albums
Josephine Beatrice Bowman Photo Album, circa 1908-1915 (Naval History and Heritage Command Photographic Lot # S-581) --
General Description
This album, containing 104 pages and approximately 223 mainly "snapshot" size photographs, was kept by Chief Nurse (later Lieutenant Commander) J. Beatrice Bowman. It depicts her service as one of the first members of the Navy Nurse Corps from 1908 to about 1915, at Naval hospitals at Washington, D.C. (1908, about 1910 and 1915); Brooklyn, New York (about 1909-1910); Philadelphia, Pennsylvania (1911-1913, also including views of the Naval Home there); and Portsmouth, Virginia (1913-14). Also included are views of Miss Bowman's family and family home, with some of these views dating from the late 1800s.
The album was transferred to the Naval Historical Center (since renamed "Naval History and Heritage Command") by the Navy Nurse Corps in 1983, with other items originally belonging to LCdr. Bowman. Generally, this album is in fragile condition. Pages are of heavy black paper and are quite brittle, with edges and corners of many of them broken. Some pages at the front and back of the album have also broken loose from the binding. Album covers are black fabric, embossed with a leather-like grain but with no markings. They measure 7 1/16 inches high by 9 7/8 inches long. There are 104 inside pages, bound to the covers and measuring 6 11/16 inches by 9 3/4 inches.
For additional relevant information and images, see: Lieutenant Commander J. Beatrice Bowman, Nurse Corps, USN .
To browse through this album page-by-page:

Start with front cover & pages 1-5 and follow page links near the bottom of each presentation page.

Some photographs are mounted at right angles to the page axis. These can be rotated for easier viewing by clicking on the line "Turn page 90 degrees to right" below the page thumbnails.

To go directly to specific pages, click the appropriate entry on the list below:


For a listing of specific subjects seen in this album, keyed to the page where they appear, see:


S-581 -- General Description, Part Two, Subject Listings.

Notes on text provided with pages:


Text entries in quotations are taken from inscriptions hand-written in the album in the locations noted in italics.

Text entries without quotation marks are provided by the Naval History and Heritage Command's staff.

Click on the linked page numbers to see small pictures ("thumbnails") of those pages.
Click on the thumbnails to access larger images of the pages.




NOTES:


To the best of our knowledge, the pictures referenced here are all in the Public Domain, and can therefore be freely downloaded and used for any purpose.


Some images linked from this page may bear obsolete credit lines citing the organization name: "Naval Historical Center". Effective 1 December 2008 the name should be cited as: "Naval History and Heritage Command".







Return to Naval History and Heritage Command home page.
Page made 21 February 2000
Coding updated 10 May 2009