Return to Naval Historical Center home page.

Return to Online Library listing

DEPARTMENT OF THE NAVY -- NAVAL HISTORICAL CENTER
805 KIDDER BREESE SE -- WASHINGTON NAVY YARD
WASHINGTON DC 20374-5060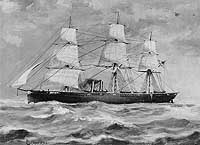 Online Library of Selected Images
-- ART TOPICS -- ARTISTS
Clary Ray
Clary Ray was the first of three artists (also including R.G. Skerrett and F. Muller) who created ship paintings during the 1890s and early 1900s for use in the documentary series "Official Records of the Union and Confederate Navies in the War of the Rebellion". Many of his works, primarily monotoned wash drawings, are still in the custody of the Navy Art Collection, Washington, D.C. The Clary Ray paintings that are dated were made between 1894 and 1898. Others may have been made as late as 1900.
This page provides links to photographs of artworks by Clary Ray.
The following artworks were made by Clary Ray:

Return to Naval Historical Center home page.
Page made 9 February 2003
New images added 31 March 2003