Return to Naval History and Heritage Command home page.

Return to Online Library listing


DEPARTMENT OF THE NAVY -- NAVAL HISTORY AND HERITAGE COMMAND
805 KIDDER BREESE SE -- WASHINGTON NAVY YARD
WASHINGTON DC 20374-5060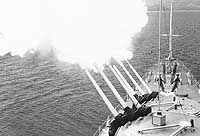 Online Library of Selected Images:
-- ART TOPICS -- Photographers --
Family names beginning with the letters I and J
This page lists some of the photographers with I- and J- family names whose works are available through the Online Library.
Note: The Online Library's listing of photographers is, as yet, very incomplete. Therefore, if you do not find the I- or J-named photographer you seek in the list below, we suggest the use of a search engine to attempt to locate relevant images. If that does not produce satisfactory results, contact the Photographic Section concerning other research options.
I- and J-named photographers are listed below in alphabetical order. Scan down the list until you find the one you want, then click its entry to access appropriate image pages.
NOTES:

To the best of our knowledge, the pictures referenced here are all in the Public Domain, and can therefore be freely downloaded and used for any purpose.


Some images linked from this page bear obsolete credit lines citing the organization name: "Naval Historical Center". Effective 1 December 2008 the name should be cited as: "Naval History and Heritage Command".







Return to Naval History and Heritage Command home page.
Page made 3 January 2004
New photographer added 31 October 2010