Return to Naval Historical Center home page.

Return to Online Library listing

DEPARTMENT OF THE NAVY -- NAVAL HISTORICAL CENTER
805 KIDDER BREESE SE -- WASHINGTON NAVY YARD
WASHINGTON DC 20374-5060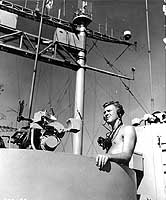 Online Library of Selected Images:
-- EVENTS -- The Korean War, 1950-1953 --
The Pohang Landings, July 1950
By mid-July 1950, the U.S. Army's 24th and 25th Infantry Divisions had been transported from Japan to Korea and were fighting with little success to stop the North Korean juggernaut. Preparations were underway to bring over the First Cavalry Division. Earlier, landing these troops at the west coast ports of Kunsan or even Inchon had been considered, but this was swiftly made impossible by the speed of the enemy advance. Pusan, the only secure major port left in South Korea, was so overloaded with incoming shipping that an alternative landing place was necessary. Pohang, a smaller city up the east coast from Pusan, was chosen for its good harbor and land communications.
Since the North Koreans were steadily moving toward Pohang, it was prudent to expect an opposed landing of the First Cavalry. A full amphibious operation was assembled under the command of Rear Admiral James H. Doyle, including assault elements, minesweepers, carrier-based close air support and naval gunfire. However, the actual landings, which began on 18 July, were peaceful. The only interruption came from a typhoon that passed through a few days later, so all the supporting firepower was quickly diverted to more productive employment elsewhere. The First Cavalry Division was soon in action as the front lines contracted toward what became the Pusan Perimeter.
Among the ships used at Pohang, both in the initial and in follow-on landings, were many Japanese-manned LSTs. These ships, leftovers from the Pacific War, had gained postwar civil employment sustaining Japan's extensive coastal shipping needs and supporting the occupation forces. The slow but versatile Japanese and Korean LSTs, as well as those of the U.S. Navy, were invaluable assault and logistic assets throughout the Korean conflict.
This page features images related to the Pohang landings of July 1950.
For links to more pictures of the first months of the Korean War, see: