Return to Naval Historical Center home page.

Return to Online Library listing

DEPARTMENT OF THE NAVY -- NAVAL HISTORICAL CENTER
805 KIDDER BREESE SE -- WASHINGTON NAVY YARD
WASHINGTON DC 20374-5060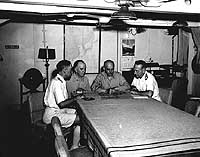 Online Library of Selected Images:
-- EVENTS -- The Korean War, 1950-1953 --
The North Korean Offensive, 25 June -- 15 September 1950
Before dawn on Sunday, 25 June 1950, the North Korean army moved forcefully into the South, whose outgunned defenders were generally overwhelmed. Seoul, capital of the Republic of Korea, fell in four days. Half a world away, the United States and the United Nations decided to actively defend South Korea, quickly bringing air, sea and land forces of the U.S. into the war, along with ships and aircraft of the British Royal Navy.
Available U.S. Navy forces were limited in numbers and divided between Vice Admiral Arthur D. Struble's Seventh Fleet and Vice Admiral C. Turner Joy's Naval Forces, Japan. The two admirals quickly established a command relationship that worked satisfactorily through the next three years.
The light cruiser USS Juneau (CLAA-119) began U.S. Navy active involvement with a sweep up South Korea's east coast, starting on 28 June. Initial naval air strikes were carried out by USS Valley Forge (CV-45) and the British light carrier Triumph on 3-4 July. Other U.S. and Royal Navy ships supported the evacuation of refugees and the movement of U.S. Army forces and supplies from Japan to Korea. Inshore along the coasts of the embattled nation, the ROK Navy vigorously interdicted North Korean amphibious warfare efforts.
By early July, it was clear that the invaders would not back down in the face of foreign involvement. During that month, though control of the air and sea was decisively seized by the United Nations' forces, the North Koreans steadily pushed ROK and U.S. ground forces into the southeastern corner of the Korean peninsula.
August 1950 and the first half of September saw a doggedly successful defense of that corner, the Pusan Perimeter, as an increasingly desperate North Korean army tried mightily to break it. Meanwhile, reinforcements, including more aircraft carriers and the first U.S. Marines, arrived from across the Pacific. Air and sea attacks on the enemy cut deeply into his offensive capabilities. In Japan, a daring amphibious counterattack was in preparation, an operation that would end the war's defensive initial phase and open its second.
This page features images related to the first days of the Korean War and provides links to pictorial coverage of the first phase of the conflict, from 25 June to 15 September 1950.
For more images of the first months of the Korean War, see: