Return to Naval Historical Center home page.

Return to Online Library listing

DEPARTMENT OF THE NAVY -- NAVAL HISTORICAL CENTER
805 KIDDER BREESE SE -- WASHINGTON NAVY YARD
WASHINGTON DC 20374-5060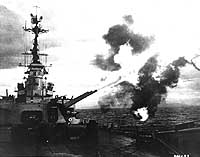 Online Library of Selected Images:
-- EVENTS -- The Korean War, 1950-1953 --
Naval Gunfire Activities, July - September 1950
The U.S. Navy's first Korean War combat action took place early on 29 June 1950, as the light cruiser USS Juneau (CL-119), flagship of Rear Admiral John M. Higgins, fired her five-inch guns at suspicious shipping and shore targets along the South Korean east coast. During the next month, as UN forces attempted to slow the North Korean army's advance, there were numerous gunnery operations by Juneau, U.S. Navy destroyers and British Royal Navy ships, including HMS Belfast. Playing an important role inshore, especially along the west coast, was the tiny South Korean Navy, whose patrol craft were very active in countering enemy attempts to use the sea to flank the defending Korean and U.S. ground troops.
With the arrival in late July of two more U.S. heavy cruisers, USS Helena (CA-75) and USS Toledo (CA-133), to join the Seventh Fleet flagship USS Rochester (CL-124), eight-inch guns began to play an important and lasting role in the Korean conflict. Their heavier shells could reach farther, penetrate deeper and destroy harder targets than the projectiles of the five and six-inch guns available on the British cruisers and the other U.S. ships then present in the combat zone.
Naval gunfire played an important role in the defense of the Pusan Perimeter in August and early September, especially at the line's eastern end north of Pohang, where ships' guns helped defeat several North Korean attempts to capture the seaports that sustained the UN toehold in Korea. Cruisers and destroyers also joined aircraft in interdicting enemy communications and facilities further to the North and supported South Korean island garrisons off the peninsula's west coast.
This page features images related to naval gunfire actions during the early months of the Korean War, from 25 June to 15 September 1950.
For links to more pictures of the first months of the Korean War, see: