Return to Naval Historical Center home page.

Return to Online Library listing


DEPARTMENT OF THE NAVY -- NAVAL HISTORICAL CENTER
805 KIDDER BREESE SE -- WASHINGTON NAVY YARD
WASHINGTON DC 20374-5060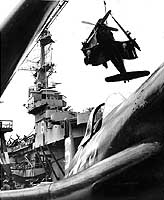 Online Library of Selected Images:
-- EVENTS -- The Korean War, 1950-1953 --
Trans-Pacific Logistics, July - December 1950
The very first U.S. response to the Korean crisis was a decision to provide additional weapons and supplies to the South Koreans. Though swiftly overtaken by events, this represented the start of what became a huge effort to bring across the broad Pacific Ocean the men, equipment and abundance of other items needed to sustain mid-Twentieth Century warfare.
In the first month of the war, when the surging North Korean offensive had to be countered with the limited forces already in the theatre, transportation needs almost always exceeded supply. Every available means of conveyance was pressed into service. The aircraft carrier Boxer (CV-21), awaiting overhaul after a deployment, was loaded with urgently required Air Force and Navy planes and rushed to sea. Her trans-Pacific voyage, from 14 to 22 July 1950, set a speed record for that route.
Another very important achievement was the transportation of the First Provisional Marine Brigade, the only ready ground forces available in the U.S. and the first to leave for Korea. Using Navy amphibious shipping and escort carriers, the Brigade and its supporting Air Group started across the ocean in mid-July. In the first days of August, the Marines and their planes were in combat in the Pusan Perimeter.
This page features images of the transportation of personnel, equipment and supplies from the U.S. to Korea during 1950.
For photographs of life and work on board a Navy transport ship en route from the United States to the Korean War Zone in late 1950, see: USNS Fred C. Ainsworth -- Views On Board during a Late-1950 Trans-Pacific Voyage.
For other views of the Korean War trans-Pacific logistics effort, see: Korean War -- Trans-Pacific Logistics.
For links to more pictures of the first months of the Korean War, see: