Return to Naval Historical Center home page.

Return to Online Library listing


DEPARTMENT OF THE NAVY -- NAVAL HISTORICAL CENTER
805 KIDDER BREESE SE -- WASHINGTON NAVY YARD
WASHINGTON DC 20374-5060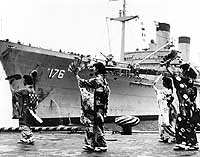 Online Library of Selected Images:
-- EVENTS -- The Korean War, 1950-1953 --
Trans-Pacific Logistics --
Overview and Selected Images
Shipborne logistics between the United States and the Korean War zone represented a huge job for the Navy, the Military Sea Transportation Service (MSTS) and the Merchant Marine. Though the aircraft of the day could fly some high-priority items across the Pacific, the overwhelming majority of personnel, equipment and supplies necessarily had to go by sea. This included nearly all combat aircraft but the largest bombers, as those were the days before wide-spread aerial refueling permitted the global deployment of tactical aircraft.
Trans-Pacific steaming distances were (and are) vast. There are some 5000 miles between San Francisco to Korea, representing about two weeks at sea at a transit speed of fifteen knots. Thus, a ship needed at least a month, and frequently much more, to carry its cargo from the U.S. to Japan or Korea, unload, and return for more. Great numbers of cargo and passenger ships were required to keep the war machine functioning. A simultanous defense build-up in Europe compounded the shipping problem.
In the early months of the Korean War, the provision of shipping was nearly as great a problem as the availability of trained men and modern equipment. However, by the fall of 1950, logistics between the U.S. and the Korean war zone had become essentially routine. More shipping capacity had been brought into service, port facilities in Korea enhanced and logistics organization upgraded. From then until the end of the conflict in mid-1953, materiel and people streamed back and forth across the Pacific, ensuring that the fighting forces in Korea received all they required to sustain the kind of war they were obliged to fight. In addition, the shipping system brought home veterans of the combat effort, plus aircraft and other equipment that needed extensive refurbishment.
This page features a special selection of images of the transportation of personnel, equipment and supplies to and from the Korean war zone.
For broader photographic coverage of Korean War trans-Pacific logistics, see: