The Legend | Facts, Fiction and Themes | John Henry in Alabama? | Steel drivin'

Chasing John Henry in Alabama and Mississippi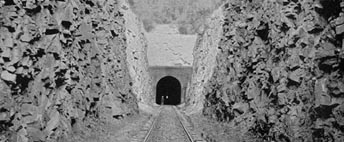 Coosa Tunnel, Columbus & Western Railroad - 15 miles east of Birmingham, Alabama
(Stovall & Havens, 1895)


Garst, John.
Chasing John Henry in Alabama and Mississippi: A Personal Memoir of Work in Progress
Tributaries: Journal of the Alabama Folklife Association
Issue No. 5 2002 pp 92-129

Synopsis

   In my opinion, the data gathered by Guy Johnson and Louis Chappell, 
and published in their books of 1929 and 1933, respectively, make it 
very unlikely that John Henry raced a steam drill at Big Bend Tunnel. 
These workers made a massive effort, focused on Big Bend, and failed 
to find anything definitive, despite the fact that they were able to 
interview about a dozen men who had worked on the construction of 
that tunnel.  Only one of these men claimed to have seen the race and 
his testimony was very weak.  Others testified that it could not have 
happened at Big Bend - they would have known about it if it had.

   Johnson received letters from C. C. Spencer, F. P. Barker, and 
Glendora Cannon Cummings, all of whom placed John Henry and his race 
with a steam drill in Alabama during the 1880s.  Cummings stated that 
John Henry beat the steam drill and died at Oak Mountain in 1887, an 
event that her uncle witnessed.  Barker said that John Henry was at 
"Cursey Mountain" while he, Barker, was driving steel on Red Mountain 
(which lies along the southeastern edge of Birmingham, Alabama).

   Spencer's letter was especially rich in detail, but Johnson was 
frustrated by the failures of his attempts to verify some of 
Spencer's facts.  Spencer mentioned "Cruzee" Mountain, similar to 
Barker's "Cursey," which Johnson could never find, in Alabama or 
anywhere else.  Spencer also named the railroad under construction as 
the Alabama Great Southern, which exists but does not go over or 
through a mountain with a name similar to "Cruzee" or "Cursey." 
These failures caused Johnson to abandon Alabama, in favor of Big 
Bend, in his unsuccessful pursuit of John Henry.

   Spencer said that he personally witnessed John Henry's death.  He 
described how John Henry fell into a faint near the end of the 
all-day contest on September 20, regained consciousness, said that he 
was blind and dying, and asked that his wife be summoned.  His wife 
came and cradled his head in her lap.  He asked, "Have I beat that 
old steam drill?"  Measurements gave John Henry 27 1/2 feet and the 
steam drill 21.

   Further, he said that John Henry was an ex-slave from Holly 
Springs, Mississippi; that he took his former master's surname, 
Dabner; and that he was working for contractors Shea and Dabner when 
he died.  Cummings gave the contractors' names as Shay and Dabney, 
and a "Jamaica" informant, C. S. Farquharson, gave them as Shea and 
Dabner.

   In fact, Captain Frederick Yeamans Dabney was Chief Engineer for 
the Columbus & Western Railway Company during the construction of 
their line between Goodwater, Alabama, and Birmingham in 1887-88.  He 
was a Rensellear-educated civil engineer who made a career of 
railroad design and construction.  Captain was his Confederate army 
rank.  He was born in Virginia in 1834/35; raised in Raymond, 
Mississippi, from about age one; and settled his family in nearby 
Crystal Springs, Mississippi, after the Civil War.

   Between Raymond and Crystal Springs lay Burleigh Plantation, which 
was owned by Captain Dabney's uncle, Thomas Smith Gregory Dabney.  In 
1860 T. S. G. Dabney owned 154 slaves, while Philip Augustine Lee 
Dabney, Captain Dabney's father, owned eight.  (Note: Since the 
publication of the article I have learned that one of P. A. L. 
Dabney's slaves was Henry, born in 1844.  If this is John Henry, he 
would have been 43 years old in 1887.  I'm told that this is a 
reasonable age for a champion steel driver. - JG)

   About 15 miles east of Birmingham the C & W line (later Central of 
Georgia and now Norfolk Southern) passes through Coosa and Oak 
Mountain Tunnels, which are two miles apart, portal to portal. 
Obviously, "Coosa" was intended by "Cruzee" and "Cursey" in Spencer's 
and Barker's letters. "Coosa" is locally pronounced "Koo'see" and is 
even spelled that way in some old documents.

   The discoveries that Coosa and Oak Tunnels exist, that they have 
railroad tunnels through them, that these were built in 1887-88, that 
a Dabney was the engineer in charge of construction, that he was from 
Mississippi, and that his family owned slaves near Crystal Springs 
lend credence to the testimonies of Spencer, Barker, and Cummings. 
Evidently Spencer simply got his Mississippi "Springs" towns confused 
when he mentioned Holly Springs, which, being near Memphis, is not 
very close to Crystal Springs, south of Jackson.

   In addition, there is a strong local tradition among Central of 
Georgia employees and around Leeds, Alabama, that John Henry raced a 
steam drill and died just outside the east portal of Oak Mountain 
Tunnel, between Oak and Coosa Mountain Tunnels.  This tradition is as 
old and strong as that for Big Bend.

   Finally, in about a dozen versions of "John Henry," there are lines 
that are more consistent with the Alabama location than with "Big 
Bend Tunnel on the C & O Road."  At least two pre-1930 versions of 
"John Henry" place him on "the Georgia line" or "the Central o' 
Georgia Rail Road."

   Thus, the evidence favors a site near Oak and Coosa Mountains, 
Alabama, and 1887 as the place and time of John Henry's race with a 
steam drill.

                                        - John Garst
                                          Department of Chemistry
                                          University of Georgia
                                          Athens, GA 30602
                                          garst@chem.uga.edu


Stovall, Pleasant A., and O. Pierre Havens. 1895.Fruits of Industry: Points and Pictures
    along the Central Railroad of Georgia. Savannah: Passenger Department of the 
    Central Railroad of Georgia System. "Text by Pleasant A. Stovall. Photographs by 
    O. Pierre Havens...Souvenir of Cotton States and International Exposition,
    Atlanta, Ga., September 18 to December 31, 1895...On and after November 1,
    1895, this system will be known as the Central Railway Company."


To read the full article, "Chasing John Henry in Alabama and Mississippi," contact the Alabama Folklife Association and order a copy of Tributaries: Journal of the Alabama Folklife Association, Vol. V (2002).
Contact information for the Alabama Folklife Association:
The Alabama Folklife Association
410 N. Hull Street
Montgomery, AL 36104
(334) 242-3601
FAX (334) 269-9098
http://www.alabamafolklife.org/
Learn more about Dr. John Garst
Professor driving home new evidence on life of John Henry (NHN, 2002)
Folklore Researcher Places Legendary John Henry in Alabama (Online Athens, 2-03-2002)