"I regret having done some of the nasty things I've done, but I feel I more than made up for it by helping undermine what McCarthyism was all about."

-Harvey Matusow, in his book False Witness, 1955.
This site is about Harvey Job Matusow, born Harvey Marshall Matusow, in 1926 in the Bronx, New York. Harvey later went by the name Harvey Job Matusow, or just Job Matusow. He died and went to spirit in January, 2002.
Harvey experienced a diverse and incredible life, having been a soldier in World War II, seen the crash of the Hindenburg, worked for the FBI and Senator Joe MacCarthy in U.S. anti-communist hearings, written a best selling book about his work as a paid witness, served time in prison for perjury, been involved in stand up comedy, childrens radio programs and tv, journalism, underground magazines and newspapers, avant garde music, taken vows of poverty, released seven albums, and produced cable TV programming for the Mormon community. He's spent much of his life volunteering and helping prostitutes, indian reservations and developmentally disabled children. He's also been a professional clown and a successful toy inventor. In his 70's he ran the only public access TV service in Utah, SCAT-TV.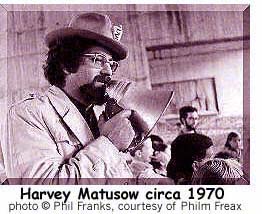 Job was in the process of writing his 6th book, The Stringless Yo Yo, an autobiography covering his entire life story. We've built this web site to share some of the work in progress, and about his other books, music and life's work. Related sites are found at www.magicmouse.org and www.beastofbusiness.com.