Jerry Rubin
Do NOT steal this photo!
Images on the website have been digitally watermarked with ownership and usage information. Digimarc and the Digimarc logo are registered trademarks of Digimarc Corporation. The "Digimarc-Enabled" Web Button is a trademark of Digimarc Corporation, used with permission.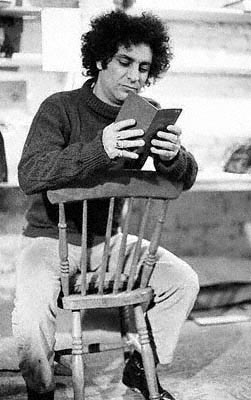 "When Jerry Rubin showed up at
Friends
offices fresh off the plane with his passport stamped "you got 'till sun-up to get out the country, kid" everyone there hung on his every word as if he was some revolutionary General giving his troops on the front line a pep talk. A lot of the folk from the magazine, including Alan Marcuson owner/editor and Little Tony, Boss Fairy and Dick Lawson went along with Jerry Rubin that evening to the London Weekend TV Studios, hustled themselves through security and into the studio where Mr. David Frost was doing his live chat show. They climbed all over the stage, clenched fists and peace signs in everyone's faces. The show was taken rapidly of the air and pictures of it were in all the newspapers that following morning. . ."
- A. Witness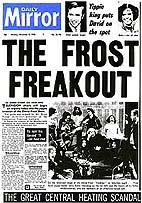 ---
Friends Nº 20 11th. December 1970
PRESS PANICS AT "YIPPIE OUTRAGE" by "Our Correspondent"
The previous Saturday it had been decided that the appearance of Jerry Rubin on the Frost Show would be used to expose the hypes that make up most off television in this country. A group was to get in through the fire exit at London Weekend, walk on stage, put a dunce's cap on Frost and sit him in the corner, as a defunct fame pusher iconoclast gone wrong, then get into a rap with Robert Arderey. That was about the sum of it. In the event they got on stage, but during the break Arderey moved to another studio.
Harold Sorel, Conservative MP for Ormskurk became hysterical when he saw it and said "I blame the fracas, seen by an estimated 17million, on revolutionaries based in Algeria. I call for an investigation by the Home Office in charge of immigration and say that Television should not be allowed to display exhibitions of public depravity".
The Mirror somehow managed to find a Yippie who took part in the studio invasion and quoted him as saying "Frost set up the scene so that his show turned into a shambles". An ITV spokesman said ominously "Mr. Frost does not go in for those kind of gimmicks". Agreed; he is a gimmick in his own right.
One of Jerry's party asked him when was the last time he'd walked down a Harlem Street. "Never". Of course. Frost doesn't talk to people. He mediates between pop stars, Spiro Agnew and Sammy Davis Jr., not the London homeless, between Elizabeth Taylor and Richard Burton not the people in Harlem. "have a joint David". No, no, nonsense! Rubbish!
The entire contents of Friends are Copyright © The T.F. Much Co. Ltd. and may not be reproduced in any manner, either in whole or in part without specific permission from the publishers, except for Underground Press Syndicate members, UPS, LNS.
---
High point of his brief visit was a press conference in the OZ offices in Princedale Road. Officially over as a legal advisor for OZ's forthcoming Old Bailey Obscenity trial, Hoffman zapped straight and frank pressmen with articulacy and humour, both of which were noticeably absent in the last Yippie envoys. He explained that his main concern of the moment was organising a vast three day demo -- May 1st - 3rd -- in Washington. Hopefully parallel events would be arranged in London, Paris and Tokyo. Abbie was generally unimpressed by the factionalism and lack of real activity in the English "underground". The assembled revolutionaries spoke or shouted their pieces, the straight press were allowed their question time, then hussled out. It was the usual jokey scene, lots of laughs, plenty of dialogue, very few positive conclusions. Abbie's major contribution to home affairs was a recording made of a statement that could be used for the defence in the OZ trial. If possible he will appear in person, otherwise the tape will be played. The necessary arrangements have been made. Within twelve hours of arriving here, he was on his way again - this time for a stopover in Belfast, and then he returns to the States, where he will be organising the May demo and awaiting the publication of his latest book, "How to Steal". His lecture tours continue in an attempt to gather funds for the Chicago Trial appeal, rumoured to be costing 300.000 dollars. Much of the money already collected was sacrificed recently after 25.000 dollars worth of bail for one of the New York Panther 21's was claimed by the courts when the Panther vanished.
---
Published in International Times Nº 85 August 13th-27th. 1970
By Abbie Hoffman, an extract: "Don't forget the TRIAL either. The prosecutor reads for days from "Mr. Hoffman's revolutionary handbook". "Revolution For The Hell Of It!" - the antic dabblings of this little fellow called Free, were used to convict us & to convict our culture. Aside from a few obscenity trials, lawyers tell me "Revolution For the Hell of It!" is the only published book in the judicial history of the United States used as prosecution evidence in a criminal case. I'll never forget being on the witness stand in Julius Hoffman's neon oven":
PROSECUTOR:
Now Mr. Hoffman, what were you wondering when you wrote this passage?
DEFENDANT:
Does wondering mean dreaming, Mr. Schultz?
PROSECUTOR:
Yes, that's right. (waves book)
DEFENDANT:
I've never been on trial for my dreams before. I'll have to think a bit.
Five year prison terms for dreaming!