Edgar Broughton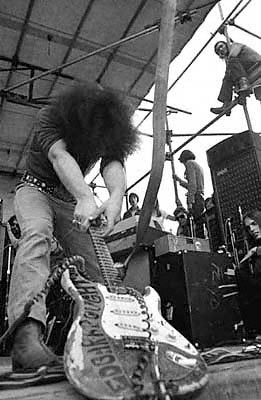 Hyde Park 1971

A Philm Freax Exclusive!
Still refusing to die
by Patrick Neylan-Francis
The Edgar Broughton Band
Bromley Pavilion Centre
Kent, England
July 25, 1998

"Got any drugs, anyone?" asks Edgar. But this isn't the Isle of Wight, where EBB played a protest gig outside the overpriced 1970 bash. This is Bromley. Valium or Viagra, if you're lucky. Edgar looks hard enough though, even as he launches into a rather daft song called Poppy. Twenty-five thousand at a German festival a few weeks back can't be wrong, but 100-odd in a badminton court at a leisure centre in suburbia don't seem so sure. This is the nub - how committed are you? Four years since your last UK gigs, seventeen since the last album (unless you count the new tracks on the 1996 reissue), last hit singles in 70/71 - do you play the Bromley Pavilion? Twenty years ago this was "The Band That Refused To Die". They play.

This is still the family that plays together. Brother Steve is still on skins (including Rizlas backstage), and now son Luke is on synthesisers, saving his more outrageous ideas for the coming album. Mum no longer drives the van though. There's still a fire in those bellies even if the bellies have widened, and more hair has been lost than the day half California's hippies went buddhist. What's also gone is the maudlin feel of a decade ago. The beautiful "Speak Down The Wires" is still in, but "Hotel Room" is gone - "Out Demons Out" is back for an encore, a savage guitar attack instead of the 60s exorcism chant.

"I'm good, I'm honest, no one else is left - vote for me" sings "The Last Electioneer". The first three are true - and there are moments of beauty and pathos and searing guitar energy, something we need more of now that music has gone wet again. Thirty years on, and they again look on the verge of breaking, and not quite caring. Sunset dream can never hurt you again.

*Colour photo and text: Copyright © Patrick Neylan.
All Rights Reserved.

Check out Superchip... Plus or find more music by The Edgar Broughton Band, in Assciation with Amazon.co.uk.

Philm Freax | Friends | Phil Franks | Guestbook | Links | What's New
contact: Phil Franks (freax AT philmfreax DOT com)
Freax Website produced by Malcolm Humes