Daevid Allen's Bananamoon
Track List:

Time of your Life
Memories
All I Want is out of Here
Fred the Fish
White Neck Blooze
Stoned Innocent Frankenstein
& His Adventures in the Land of Flip
I am a Bowl
Daevid Allen (voc/g) - Robert Wyatt (d/voc/g) - Archie Legget (b) - Gary Wright (p) - Gerry Field (vln) - Maggie Bell (bv) - Barry St. John (bv)
guests: Pip Pyle (d) - Christian Tritsch (g/b) - Nick Evans (tb) - Gilli Smyth (space whisper)
Recorded: Jan 1971 - Location : London (Marquee Studios) - Pr : Pierre Lattes
Phil's notes on the session:
The Studios are in Soho, London, in a maze of little backstreets. We went out of the studio to do some standing-up shots and while the others fooled around Daevid took a pen from his pocket and drew a bananamoon on this temporary wall which closed off a vacant lot. As you see on the pic (if you are lucky enough to own a copy of 12" vinyl), said bananamoon has a balloon in which the word "ship" is seen, if one looks closely it's apparent that originally Daevid had written "shit"... to this he refers below.
Historians and those interested in the mythology of the Planet Gong may like to see this original, illustrated letter from Daevid and The Pot Head Pixies.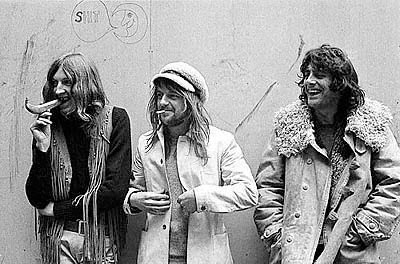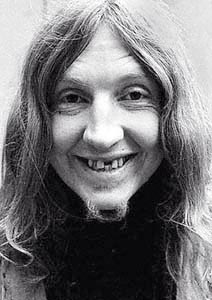 INSIDE SLEEVE BELOW PHIL FRANKS PHOTO SAYS:
"This photograph by
Phil Franks
of Daevid Allen and Robert and Archibaldo was taken outside Marquee Studios. A man leaned from a Posh Office and cried out "Wipe off that filth!", so we made ourselves gradually begin to disappear but nevertheless He sent his butler with gloves and a spotless cloth to erase the Bananamoon from his beautiful landscape. Also missing were Gary Wright Gerry Fields Pip Pyle Christian Tritsch Barry St. John Maggie Bell and Nick Evans which is a pity."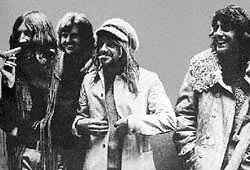 Gary Wright was pasted on behind the trio for this release version.

What you see at the top of the page is the original photo... no Photoshop® or Macintosh then, all done with scissors and Cow Gum!

Philm Freax | Friends | Phil Franks | Guestbook | Links | What's New
contact: Phil Franks (freax AT philmfreax DOT com)
Freax Website produced by Malcolm Humes