Pink Fairies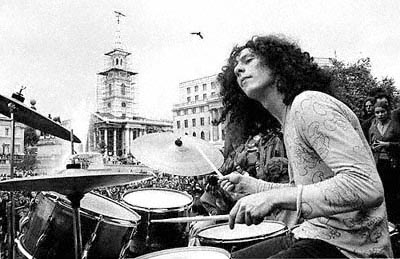 FRIENDS Number 14 September 18 1970
CELEBRATING THE BIG TURN-OFF

The pig of the month meeting held in Trafalgar Square on Saturday the 22nd August didn't really get off the ground. The build up was relevant and timely considering the importance of most of the things they were supposed to talk about. The organizers said they had chosen Trafalgar Square, because it gives free space and time to get across to the public (and each other ) what is happening in, and to our communities and to discuss the kind of concrete issues which are either distorted or ignored by the mass media. They also said it would give everybody the chance to express and celebrate the solidarity of the struggle, and also show the determination to resist the violence, which is embedded in the structure of our class society.

It is important to realize that the busts in Islington, Notting Hill Gate and the East End, particularly those involving blacks and kids who have dropped out of a system that condemns them to meaningless dead end jobs, are very real. And that's about it. Franz van Mahony from the Amsterdam Kabouter spent most of the time saying that if every body smoked half as much dope as they do, perhaps we could all get off our arsses and do something.

Mick Farren in between rushing around shouting "Methadrine is great at riots", said, "Everything's all yours by right, everybody should have a coloured TV, we was robbed even before we was born, things are made by the people, they belong to the people, so the people should take them". A succession of Speakers followed, mainly telling everybody that we must try to get it together and screw the system.

Chris Bott, from the West London Claimants Union said it was up to everybody to find out for themselves what was going on, and that his group held regular weekly meetings and everybody should come along.

Light relief was provided by an old woman who got up towards the end and said "You're all being rather naughty, the policeman is our protector and friend." There were never that many cops around at one time, probably because of the large contingent of tourists, who mad made up at least half of the crowd, walking around taking pictures, but there was one bus load parked by the square and another behind Admiralty Arch. Ginger Johnson looked as if he enjoyed himself, and the rest of the groups were pretty good.
---
From: FRIENDS 10 "Viewzak" 10 July 1970

The Pink Fairies are expecting to fly this summer. When the major bands finish the evening concerts at the Bath Festival the Fairies will set up on a flat-bed truck with their own generator, and then the people's concert will begin, outside the fenced-off festival area. The band will play for the campers, those who don't want to go home, and any others who want to keep going after the main PA is switched off.

Formerly the Deviants, Sandy (bass), Paul (guitar) and Russ (drums) were part of a well-established small community that included the Pretty Things. The Pink Fairies came together as an idea and an ideal after the disastrous Deviant's tour of the States last year. They arrived in Vancouver with Mick Farren, only to realise that they were about to be burnt by incompetent promoters. Farren split from the band, leaving them stranded thousands of miles from home with no gigs or money. The remaining three drove down to Seattle, then on to San Francisco where they lived and worked with Chet Helms and the Family Dog. Towards Christmas they travelled briefly to Montreal and then on to London. On route they picked up Twink, previously with the Pretty Things, who had worked with them, and others, on his solo album, "Think Pink Twink", on the Sire Label, shortly to be released in Britain.

Since the beginning of the year the Fairies have worked with manager Jaimie Mandelkau on a number of theories which seemed virtually impossible for an unpaid and unheard group; no record company contracts, as many free gigs as possible, and establishing themselves as a real community band.
---
Extract from FRIENDS Number 17 October 30 1970
by Jonathon Green

They really do play for everyone, "The best reactions of our last month of playing (various clubs and Top Rank Ballrooms, where we made the test breakthrough before they book the heavy boys) came from freaks and skinheads". When you get peace signs flashed by skinheads you realise something must be getting across. The basic audience is still the "underground", though the Fairies hope things won't stay that way. "We'd like to see it all merge into one big thing. Meanwhile we just try to advertise our lifestyle in the best way we can. Totally. People know that with the Fairies they can do anything they like. Which is better than sitting there and being drained of all their energy. What we need is everything freaks, not just rock or any other compartment, everything."
Upstairs at Ronnie Scott's is everything that the Factory isn't. Instead of the sparse collection of loyalists of four days before the Fairy freaks turned out in force. "Just a little warning to those people rolling up out there -you can do anything on cannabis...". "And now the star of the show - Mr. Soul!" and Twink joins the others for a set that lasts and blasts for around two hours with encores and as a special attraction Miss Pamela of the GTO's and Miss Renee wander back to the gold lame days with "Angel Baby". It's a deceptively chaotic set. The Fairies pour out such high-grade energy that individual musicianship gets lost in the rush. There's an Airplane track featuring Twink on vocals, though like most of the songs, the music takes over, and the words get forgotten. Kosmic Rock 'n' Roll flashes on, Airplane like again. Paul and Sandy sound strangely like Kaukonen and Casady at times, but the Fairies aren't playing straight acid sounds. The dope helps the energy, but doesn't create it. That's always there for everyone who wants it, indefatigable, inevitable, total. It may screw up your ears for a while but even if only half a dozen people turn up it doesn't matter as long as they enjoy themselves there and afterwards. After all the ripoffs, its being that we love doing.

"The entire contents of Friends are Copyright © The T.F. Much Co. Ltd. and may not be reproduced in any manner, either in whole or in part without specific permission from the publishers, except for Underground Press Syndicate members, UPS, LNS."

Philm Freax | Friends | Phil Franks | Guestbook | Links | What's New
contact: Phil Franks (freaxATphilmfreaxDOTcom)
Freax Website produced by Malcolm Humes