Viscount Weymouth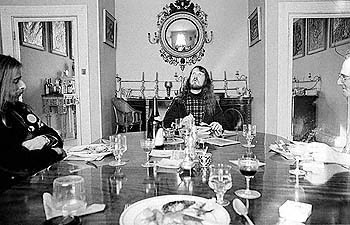 Left to Right: Jon Trux | Alexander Thynn | Michael Glass
A writer by the name of Michael Glass had convinced Andrew Bailey, London editor of Rolling Stone, that it would be a good idea to write a series called, "The British Aristocracy is Revolting!". We arrived at the house fairly late one evening having been driven there from London by Jon Trux in the van he used to distribute "Friends" magazine.
We were ushered into His Lordship's study by the butler/chauffeur/bodyguard/tourist-guide/handyman/chief cook and bottle washer, who then went off to the cellars for the precise bottle of Claret His Lordship had requested.
While we waited for the booze to arrive Jon began rolling some Lebanese Red into a joint much to the delight of our host who apologised for the "basic" level of service and explained that what with the state of country, the price of eggs and so on the family were obliged to dispense with the services of the minions of maids and footmen to which he had been accustomed since childhood and to make do with a married couple who, between them, performed all the tasks required of them for himself and his parents. He also apologised for the absence of his wife, the Hungarian pornstar, Anna Gael, who was filming somewhere.
We listened politely as he talked of his plans for a commune in the grounds of Longleat, a wonderful world were no one would suffer the repressions and hang-ups of straight society. Each child would consider every adult as their parent and the adults would treat the children as if each were his very own and free love and understanding would be the order of the day.
Back to the previous page | Forward to the next page