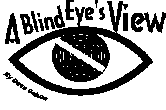 In looking around my local voting station, I was dismayed to note that all the ballots were read with an electrical scanner. Whatever happened to curtained voting booths with huge red levers and countless toggle switches? I realized that the only mechanical marvel of our age to which the "first pull up, then pull down" instructions that make up the title of the second Hot Tuna album apply is the disposable toilet seat cover. Also, if you take away the little booth, the only thing the voting process now has in common with a peep show is that unclean, distasteful feeling with which you're left afterward. Ah well. Despite my technical misgivings, I still did my duty to help select a Democratic challenger to Lauch Faircloth (will someone please find the "n" this man seems to have misplaced from his first name?). It's not that I'm so enamored of the Democrats, mind you—it's just that I'd choose almost anyone to challenge Fuck Loincloth, or whatever his name is. There's just something so overwhelmingly foul about a man who spends his life and political career kissing Jesse Helms' ass that it inspires a desire to see him stomped as hard as the hideous little claymation George Steinbrenner who gets leveled by an errant bat in an iced tea commercial.
And speaking of errant bats (you'll see them soon enough), you Hunter S. Thompson fans out there should load up on your favorite FDA unapproved additives and check out Terry Gilliam's film version of "Fear And Loathing In Las Vegas." Yes, I bought the ticket; I took the ride. Hey, it might not be the biggest movie of the season (and remember, folks, this is the summer that the big vicious lizard—not one from the lounge of the Mint Hotel—is telling us that size does matter), but it does take a special kind of flick to turn the megaplex into the gonzoplex.
From fear and loathing, we move rapidly on to beer and loafing, which sums up my summer plans. To that end, my summer got off to an early start as I lounged and lapped a couple of oat sodas (thank you Big Lebowski) at the recent Los Lobos concert at the NC Art Museum. The art museum is a, um, picture perfect venue for a mellow outdoor concert. The band let those who wanted to dance roam right up to the front of the stage (would that be the frontal Lobos?), the eats and drinks being peddled by local vendors were cheap and tasty, and the lax cooler checking couldn't be, well, cooler for those wanting to bring in some special picnic goodies—or some black-market organs (the guy next to me with the jumbo cheese and chili fries could probably use a new heart—or perhaps the keyboard player needs a new Hammond). The only problem was the utter dearth of parking spots, which forced the facility managers to make some questionable decisions while parking people on the lawn. Call me silly, but I just worry a bit when the parking attendant blithely waves me forward and there's naught but a large body of water directly in front of my car. No problem. Los Lobos rocked—and I discovered that Toyotas will float for a few hours.
Unfortunately, Los Lobos was a good 10 days too late to celebrate Cinco de Mayo. I'm a big fan of 5/5, and not just because it also happens to be the day that Ben & Jerry's hands out free ice cream cones. I took it upon myself to wish everyone I saw that day a happy Cinco de Mayo (including the various clerks at the numerous Ben & Jerry's scoop shops I visited to maximize my free ice cream intake), although several people wondered why I was so happy about "some sinkhole." After explaining to him the significance of the day, I took my son out for some celebratory Cinco de Mayo (with a turkey like me around, he prefers cinco de mustard) Mexican food. I got me a burrito with everything (they even threw in the kitchen cinco, as it were) that was larger than my head (and undoubtedly filled with better stuff). I love it, but far too many American digestive systems just can't, um, stomach that sort of fare, thus giving rise to a condition that manifests itself on May 6: the stinko de Mayo. It's enough to make my blind eyes cross, I tells ya.
After reading all this drivel, you're likely a tad cross, too. Feel free to tell me all about it by e-mailing me at blindI@mailcity.com, or you could drop me a letter here at the Prism. You're welcome to use my personal stationery, so long as you follow the instructions on it and first pull up....