Poetry of VietNam
Audio Clips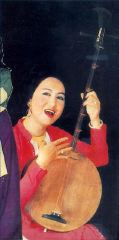 Poetry declamation is an integral part of many cultures. In Vietnam, a modernized version of this ancient art form still enjoys a small but devoted following. This page presents audio clips of selected modern and classical poems. All these audio clips are encoded in RealAudio 28.8 format. Please select a title to download (or play) the corresponding audio file. You can get the proper players and encoders by visiting the RealAudio Web site. The audio clips can also be downloaded from here.

A portrait of Hồ Điệp (Madame Butterfly), perhaps the foremost practitioner of the art of poetry declamation in pre-1975 South Vietnam.

The Modern Poetry Section.

One of the many musical scenes from The Tale of Kiều, a masterpiece of Classical Vietnamese Literature.

The Classical Poetry Section.

---

| Scenery | Monuments | People | Arts | History | Midi |


Please send comments, and/or Vietnamese poetry audio clips to ntlam@terracom.net
This page is being trakked by