Return to Naval Historical Center home page.

Return to Online Library listing

DEPARTMENT OF THE NAVY -- NAVAL HISTORICAL CENTER
805 KIDDER BREESE SE -- WASHINGTON NAVY YARD
WASHINGTON DC 20374-5060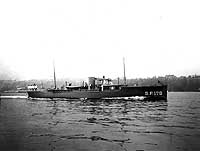 Online Library of Selected Images
-- ART TOPICS -- PHOTOGRAPHERS
Morris Rosenfeld (1885-1968)
Morris Rosenfeld, a noted photographer of yachts and other vessels, was born in Austria in 1885. His family moved to the United States a few years later, and Morris grew up in New York, where he began his photographic career as a youth. After working under Edwin Levick, Rosenfeld set up his own business in 1910. During the next six decades he actively recorded maritime scenes in the New York area, and along the U.S. East Coast, as well as making images for commercial clients. The vast photographic collection of his firm, Morris Rosenfeld & Sons, was purchased in 1984 by the Mystic Seaport Museum, of Mystic, Connecticut. Further information on this important photographer and his work is available from that institution, whose WEB site can be readily accessed via standard Internet search engines.
This page provides links to photographs taken by Morris Rosenfeld.
The following photographs were taken by Morris Rosenfeld:

Return to Naval Historical Center home page.
Page made 18 January 2003
Text updated 16 December 2004