As usual, XKCD nails it with a set of panels on email and #noemail and phone and fax. It makes so much sense — Snapchat or Fax instead of email or voicemail.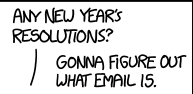 But a new report from Pew Research on the perceived importance of work communication says people at work value email over even "the internet." I have nits to pick here. the biggest one being that email is part of the internet. I think the survey meant to ask the Web, but just as the same Pew folks did a quiz about how well you "know the Web" which asked several questions that were about the internet as a whole and about apps that are not Web apps — this drives me bananas.
A lot of people are concerned about productivity and the negative impact of email on the office. Over the past week or so:
Perry Timms of i-Practice was interviewed about #noemail by Claire Burge at her blog. Irony alert: To find out more about i-Practice, just click on the mailto: link and you will send email to Perry.
Andy Swann of The Work Project writes about The Last Days of Email in Medium. Subtitled "Re-humanising the way I communicate" (yes he is British and so we get "s" for "z" occasionally), Andy encourages more human contact (without saying as I've said here that we are engaged in a robot war against evil robots (spam), well-meaning robots (sending notifications and the like), humans that act like robots (ReplyAll, acknowledging to an entire list, etc) and the robotic architecture of email itself). Call him or follow him on Twitter. Both are more human. I agree.
Founder and CEO of Pyrus, the workplace collaboration and productivity platform, Max Nalsky writes in The Next Web that "How quitting email helped my company communicate better". Rather than tell how he did it with examples, Nalsky provides a better service; he suggests several solutions for various size companies and includes a section advice for "brave CEOs." Among the suggested tools are Slack, HipChat, TigerText and building your own solutions.
Another person collecting #noemail stories for productivity is the aforementioned Claire Burge who interviewed Perry Timms. It all started with a moment of madness. I had simply had enough of email. It ruled my workday and I didn't want it to dictate my life anymore. And so I decided to quit… Burge writes on her page dedicated to "Living a Life Without Email," which is the tag line long used by Luis Suarez. Burge includes a link to a video interview with Suarez. She also offers workshops on reducing dependence of email within your workplace.
All of the above, and I, are offering more social solutions for increased productivity and a better life. But venture capitalist, Fred Wilson insists "Social is over" and it is increasingly being replaced by Messaging and Mobile.
"What Just Happened?" Wilson asks. And having seen this trend myself, I too wonder what's in store for the new year.