Books by Walker Percy
A Complete Listing of Books by Walker Percy with Book Descriptions
View: Books by Walker Percy Books on Walker Percy
Visit: Multimedia Bibliographies Collections
On Synchronicity
"You would like for your characters to get out of the fix they are in and achieve some kind of happiness. The best way to do it, the easiest way to do it, is to fall in love. A man falls in love with a woman or vice versa. If both happen at the same time, that's pretty good..."

— Walker Percy
Directory & Purchasing Books
Select a directory button to learn about each of Walker Percy's books as organized by genre.
To purchase a book, click on the book name or the Purchase button to buy the book in a new browser window. By purchasing copies of these books through this website from amazon.com, you are supporting the activities of The Walker Percy Project. Walker Percy's novels are also available as audio and digital books.
Novels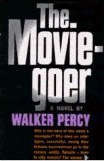 The Moviegoer (1961)
Winner of the 1962 National Book Award
The Moviegoer is Binx Bolling, a young New Orleans stockbroker who surveys the world with the detached gaze of a Bourbon Street dandy even as he yearns for a spiritual redemption he cannot bring himself to believe in. On the eve of his thirtieth birthday, he occupies himself dallying with his secretaries and going to movies, which provide him with the "treasurable moments" absent from his real life. But one fateful Mardi Gras, Binx embarks on a hare-brained quest that outrages his family, endangers his fragile cousin Kate, and sends him reeling through the chaos of New Orleans' French Quarter. Wry and wrenching, rich in irony and romance, The Moviegoer is a genuine American classic.

''A brilliant novel. . .Percy touches the rim of so many human mysteries.''
— Harper's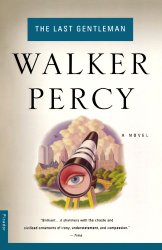 The Last Gentleman (1966)
Will Barrett is a 25-year-old wanderer from the South living in New York City, detached from his roots and with no plans for the future, until the purchase of a telescope sets off a romance and changes his life forever.

"Lovely and brilliant...a highly whimsical kind of picaresque tale that puts one in mind of both Faulkner and Camus."
— Joyce Carol Oates, The Nation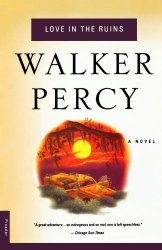 Love in the Ruins (1971)
Dr. Tom More has created a miraculous instrument — the Ontological Lapsometer, a kind of stethoscope of the human spirit. With it, he plans to cure mankind's spiritual flu. Though scorned by the experts, Tom embarks on an outrageous odyssey to prove himself. Attempting to save the world from destruction, Tom ultimately begins to understand what he can never really know — the quality and caprices of life and the uncontrollable vagaries of time and chance.

"A comedy of love against a field of anarchy...Percy is easily one of the finest writers we have."
— New York Times Book Review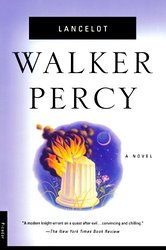 Lancelot (1977)
Lancelot Lamar is a disenchanted lawyer who finds himself confined in a mental asylum with memories that don't seem worth remembering. It all began the day he accidentally discovered he was not the father of his youngest daughter, a discovery which sent Lancelot on modern quest to reverse the degeneration of America. Percy's novel reveals a shining knight for the modern age — a knight not of romance, but of revenge.

"A fine novel...Percy is a seductive writer attentive to sensuous detail, and such a skillful architect of fiction that the very discursiveness of his story informs it with energy and tension."
— Newsweek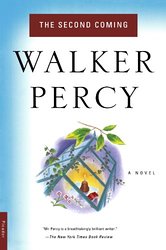 The Second Coming (1980)
Will Barrett (also the hero of Percy's The Last Gentleman) is a lonely widower suffering from a depression so severe that he decides he doesn't want to continue living. But then he meets Allison, a mental hospital escapee making a new life for herself in a greenhouse. The Second Coming is by turns touching and zany, tragic and comic, as Will sets out in search of God's existence and winds up finding much more.

"What a pleasure . . . His best nook since The Moviegoer . . . and among the most admirable American novels of the past few years."
— The New Republic

"He is a beguiling, uniquely gifted novelist who deserves to be read in order and in full."
— Newsweek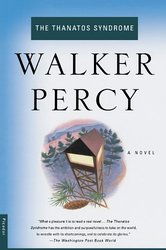 The Thanatos Syndrome (1987)
Returning home to the small Louisiana parish where he had praticed psychiatry, Dr. Tom More quickly notices something strange occuring with the townfolk, a loss of inhibitions. Behind this mystery is a dangerous plot drug the local water supply, and a discovery that takes More into the underside of the American search for happiness.

"The Thanatos Syndrome resembles a crime novel but is more precisely a sparkling comedy and an intriguing philosophical novel...This is vintage Walker Percy, a writer for all seasons."
— Newsday

"Spins along at a brisk thriller pace, laced with escapes and chase scenes and risky, ingenious detective work."
— The New York Times Book Review

Directory
Non-Fiction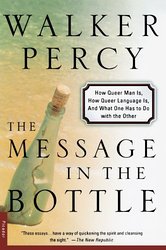 The Message in the Bottle: How Queer Man Is, How Queer Language Is, and What One Has to Do with the Other (1975)
Profound and passionate essays from one of America's greatest literary voices
Before winning the National Book Award for fiction in 1962, Walker Percy was an established scholar of science, philosophy, and language. Presented here are his strongest essays in those subjects, offering what he called a "theory of man for a new age." Ambitious yet readable, The Message in the Bottle encapsulates the philosophical foundations of his groundbreaking novels, perfect for Percy fans and new readers alike. From discussions on the dislocation of man in the twentieth century to theories on why humans talk while other animals do not, this is an enlightening collection from one of the South's most celebrated writers.

"Percy has an intellectual range and rigor few American novelists can match." — New York Times Book Review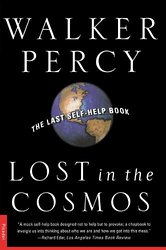 Lost in the Cosmos: The Last Self-Help Book (1983)
Walker Percy's mordantly funny and wholly original contribution to the self-help book craze deals with the Western mind's tendency toward heavy abstraction. This favorite of Percy fans continues to charm and beguile readers of all tastes and backgrounds. Lost in the Cosmos invites us to think about how we communicate with our world.

"A mock self-help book designed not to help but to provoke; a chapbook to inveigle us into thinking about who we are and how we got into this mess."
— Richard Eder, Los Angeles Times Book Review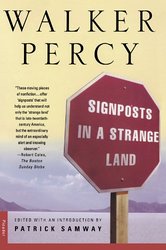 Signposts in a Strange Land (1991, Posthumous; Patrick H. Samway, S.J., ed.)
A captivating collection of writings on Southern life by one of the masters of American literature
At his death in 1990, Walker Percy left a considerable legacy of uncollected nonfiction. Assembled in Signposts in a Strange Land, these essays on language, literature, philosophy, religion, psychiatry, morality, and life and letters in the South display the imaginative versatility of an author considered by many to be one the greatest modern American writers.

"These moving pieces of nonfiction, some quite brief and terse, others more relaxed and spacious, offer 'signposts'' that will help us understand not only the 'strange land'' that is late-20th-century America, but the extraordinary mind of an especially alert and knowing observer."
— Robert Coles, Boston Sunday Globe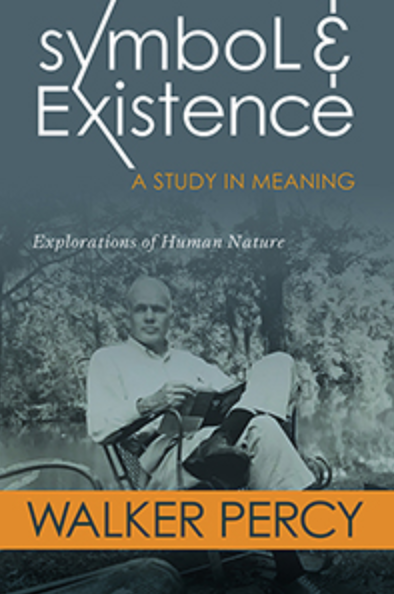 Symbol and Existence: A Study in Meaning: Explorations of Human Nature (2019, Posthumous; Mercer University Press)
The only known systematic representation of Walker Percy's general working theory and diverse intellectual background
Symbol and Existence will prove fascinating to Walker Percy scholars and fans who wish to decipher Percy's authentic philosophical stance. Percy, an existentialist Catholic at his core, was also a scientist seeking an objective paradigm to portray his views. Symbol and Existence demonstrates that Percy was quite methodical and logical in his thought and provides an entirely new perspective on his scholarship. Much of this book is unique and has never been published before; however, some sections were revised and published as isolated journal articles or book chapters, never presented as the unified whole that Percy intended. The orderly unity of Percy's work has not previously been accessible to scholars and fans.
Symbol and Existence's systematic presentation and its new material offer fresh insight and a more accurate view of Percy's ideas. His early philosophical writings were often revised and significantly modified by outside editorial intent to conform to prevailing intellectual currents of the time. Readers of some published articles with corresponding passages in Symbol and Existence will be surprised to discover major changes in meaning from Percy's initial writing due to editorial intrusion and loss of context upon their removal from Symbol and Existence.
As the only known systematic representation of Percy's general working theory, Symbol and Existence gives an important framework for his diverse intellectual background—philosophy and psychology, medicine and anthropology, semiotic and zoology—creating a coherent view of Percy's "radical anthropology."
— Edited by: Kenneth Laine Ketner, Karey Lea Perkins, Rhonda Reneé McDonnell, Scott Ross Cunningham

Directory
Interviews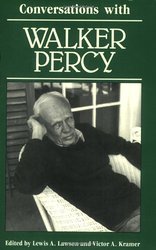 Conversations with Walker Percy, Victor A. Kramer, Lewis Lawson, Editors (1985)
These collected interviews, like a visit with Percy at his home on the Bogue Falaya River, provide refreshing close-up encounters with one of America's most celebrated writers. These twenty-seven interviews cover a period of twenty-two years, from the time of the publication of Percy's first novel, The Moviegoer, in 1961, until 1983, when he was interviewed about his friendship with Thomas Merton. These unabridged interviews, collected from a variety of sources, will give reading pleasure to general readers who wish to know Percy and his works more closely, and they will be of great use to Percy scholars.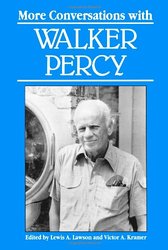 More Conversations with Walker Percy, Victor A. Kramer, Lewis Lawson, Editors (1993)
This collection of interviews supplements Conversations with Walker Percy and occasions an additional two dozen pleasurable encounters with Percy. Primarily from the last ten years of Percy's life, they show how his presence was stimulating thought in much of humanistic America, in literature, linguistics, psychology, and philosophy, and in cultural life in general. Although this acclaimed author of The Moviegoer, Lancelot, and Love in the Ruins never overcame his shyness with interviewers, he continued to grant interviews as long as his health permitted. This act of openness illustrates his humility before his ideas and his desire to help others understand them. Although the questions he was asked almost invariably became predictable, he always managed to add an anecdote, an illustration, a topical reference, that would breathe new life into the responses he was making. The interviews in this collection show him at the height when he knew that his illness would not allow him to write any more books, and that the only way to restate his ideas and offer a valediction to the large audience to whom he had always been kind, patient, and appreciative was to speak out. Percy despised the posture of many modern self-proclaimed intellectuals who delight in cloaking ideas in jargon and abstraction. He always tried to express himself clearly and as free of reservations as possible. These interviews reflect that clarity. With this book readers will welcome yet more close encounters with him.

Directory
Correspondence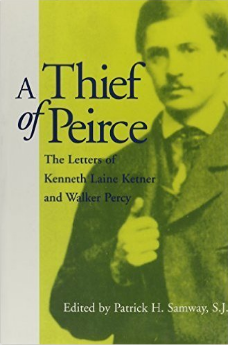 A Thief of Peirce: The Letters of Kenneth Laine Ketner and Walker Percy, Patrick H. Samway, S.J., Editor (1995)
Throughout his literary career Walker Percy read and studied the philosophical thought of Charles Sanders Peirce (1839-1914) in an attempt to re-present in language the world as Percy knew it. Beginning in 1984 and ending in 1990 (the year of his death), Percy corresponded with Peirce scholar Kenneth Laine Ketner of Texas Tech University about the semiotics of Peirce. Their letters — honest, instructive, and often filled with down-home humor — record an epistolary friendship of two men both passionately interested in Peirce's theory of signs. This volume of letters provides a rich philosophical perspective for better understanding the fiction and nonfiction of Walker Percy.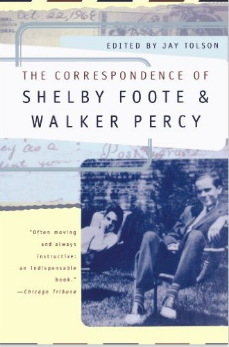 The Correspondence of Shelby Foote and Walker Percy, Jay Tolson, Editor (1996)
In the late 1940s comic moralist Walker Percy and novelist Shelby Foote, friends since their teenage years, began a correspondence which would last until Percy's death in 1990. The letters trace their lives from their early careers, when they were struggling fiercely and openly with their ambitions, artistic doubts and personal problems. They discuss such serious matters as the death of Foote's mother and Percy's battle with cancer, but their letters are also full of humour, good-natured ribbing and self mockery. This edited collection of letters aims to shed light on the relationship of these two remarkable writers as close friends and confidants, and to reveal the path of their literary careers as they gained in stature.

Mississippi has produced some of the nation's finest literary voices, including Shelby Foote and Walker Percy. Foote spent much of his career reconstructing the Civil War in a 1.6 million-word trilogy (he was the smooth-drawling storyteller in Kenneth Burns's television series on the conflict). Percy was a philosophical novelist whose work includes The Moviegoer and The Thanatos Syndrome. Not only were the two friends, but they corresponded for years, leaving behind a series of letters unearthed by biographer Jay Tolson. Tolson, the author of an exhaustive book on Percy, Pilgrim in the Ruins, shows that, unlike other Southern writers such as William Faulkner, Foote and Percy always acted as quite decent fellows, Southerners with manners and brains.
— Amazon.com

Directory