Return to Naval History and Heritage Command home page.

Return to Online Library listing


DEPARTMENT OF THE NAVY -- NAVAL HISTORY AND HERITAGE COMMAND
805 KIDDER BREESE SE -- WASHINGTON NAVY YARD
WASHINGTON DC 20374-5060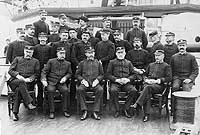 Online Library of Selected Images
-- ART TOPICS -- Photographers
The Photographers section of the Online Library provides ready access to pictures of taken by individual photographers and photographic firms. Since this category will ultimately be very large, it is subdivided alphabetically by family or firm name.
This page provides links to lists of individual photographers whose works are featured in the Online Library of Selected Images.
Note: The Online Library's listing of photographers is, as yet, very incomplete. Therefore, if you do not find the photographer you seek in the lists linked from this page, we suggest the use of a search engine to attempt to locate relevant images. If that does not produce satisfactory results, contact the Photographic Section concerning other research options.
Select the first letter of the photographers's family name, or the photographic firm name, from the listing below, and follow subsequent pages to the specific photographer you want.
NOTES:

To the best of our knowledge, the Online Library's pictures are all in the Public Domain, and can therefore be freely downloaded and used for any purpose.


Some images linked from this page may bear obsolete credit lines citing the organization name: "Naval Historical Center". Effective 1 December 2008 the name should be cited as: "Naval History and Heritage Command".







Return to Naval History and Heritage Command home page.
Section established 9 April 2002
Coding updated 22 April 2009