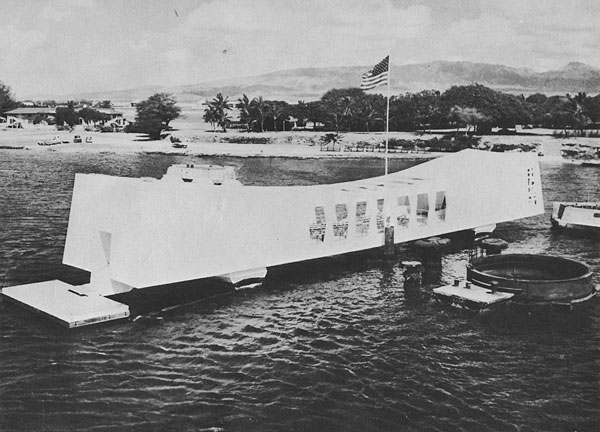 USS Arizona Memorial at Pearl Harbor
Pearl Harbor:
Why, How, Fleet Salvage and Final Appraisal
by
Vice Admiral Homer N. Wallin
USN (Retired)
with a Foreword by
Rear Admiral Ernest McNeill Eller, USN (Retired)

Director of Naval History
Naval History Division
Washington: 1968
Foreword
Pearl Harbor will long stand out in men's minds as an example of the results of basic unpreparedness of a peace loving nation, of highly efficient treacherous surprise attack and of the resulting unification of America into a single tidal wave of purpose to victory. Therefore, all will be interested in the unique volume that follows. It is Admiral Wallin's own handicraft, with only minor modifications by this staff.
The Navy has long needed a succinct account of the salvage operations at Pearl Harbor that miraculously resurrected what appeared to be a forever shattered fleet. We were delighted when Admiral Wallin agreed to undertake the job. He was exactly the right man for it -- in talent, in perception, and in experience. He had served intimately with Admiral Nimitz and with Admiral Halsey in the South Pacific, has commanded three different Navy Yards, and was a highly successful Chief of the Bureau of Ships.
On 7 December 1941 the then Captain Wallin was serving at Pearl Harbor. He witnessed the events of that shattering and unifying "Day of Infamy." His mind began to race at high speeds at once on the problems and means of getting the broken fleet back into service for its giant task. Unless the United States regained control of the sea, even greater disaster loomed. Without victory at sea, tyranny soon would surely rule all Asia and Europe. In a matter of time it would surely rule the Americas.
Captain Wallin salvaged most of the broken Pearl Harbor fleet that went on to figure prominently in the United States Navy's victory. So the account he masterfully tells covers what he masterfully accomplished. The United States owes him an unpayable debt for this high service among many others in his long career.
Following graduation at the Naval Academy in the Class of 1917, Ensign (and later Lieutenant) Wallin entered into the Navy' s then Construction Corps. He intensively studied ship construction in all its intricate facets, then he went on to various efficiently performed duties. At the time of Pearl Harbor Captain Wallin was serving as Battle Force engineer and was charged with overall responsibility for fleet repair and alterations. So he was in the thick of the Pearl Harbor attack from its onset.
When I asked him to write the account of the salvage I expected a well
--v--
written one from his experience, his profound mind, his thoroughness, his broad perception, and his skill in expressing himself in writing. What we got, as the reader will note, is not just salvage, but a succinct summary of international aggression during the '30's -- the surprise attack that inevitably followed weakness in face of aggression, -- and the resurrection and superb service of the fleet that suffered treachery. At first some of us looked upon the three as strange shipmates. But the more we thought about it the more we came to the conclusion that they made a unique team. Someone who had lived through all these, had thought about them at the time, had intimate personal contact in the attack and full responsibility for salvage had told them as the connected story they are - the three acts in a giant drama of world struggle.
Admiral Wallin has written with tireless effort to portray the truth. Whether or not one agrees with all that he says about the events through Pearl Harbor (and I do with all but a few), the reader can know that Admiral Wallin has assiduously sought just the truth. We sent him large cargoes of manuscript material and photographs to add to his own extensive collection. We supplied him with books or titles in numbers for his wide range of reading of published works in addition to the manuscript -- he is one of the few people who has seriously read the 39 volumes of the Pearl Harbor Congressional Hearings.
Rear Admiral F. Kent Loomis, Commander C. F. Johnson, Dr. William Morgan, Dr. Dean Allard, and others of us read the manuscript offering suggestions. Commander Victor Robison's assistant in the Curator Section, Mrs. Agnes Hoover; searched far and wide to obtain photographs to supplement the good ones supplied by Admiral Wallin. Dr. Allard, Mr. Bernard Cavalcante, and Miss Sandra Brown ably edited the manuscript for publication and have carried the burden of building a manuscript into a book. Mrs. Robert Winters of Fort Washington, Forest, Maryland, prepared the competent index to this volume. The story, however, is Admiral Wallin's and a significant one it is.
A host of Americans should thank Admiral Wallin for this work. May it help strengthen in the United States our sense of responsibility of service, our readiness to resist tyranny wisely, our integrity and devotion to the cause of liberty and dignity of man under God. May it also help to strengthen in all American minds understanding of the vast role the sea has played in America's destiny and is still to play. In the words of President Kennedy: "The sea means security. It can mean victory.
E. M. ELLER
Rear Admiral, USN (Retired),
Director of Naval History
--vi--
Preface
Ever since the successful completion of Fleet Salvage at Pearl Harbor in 1942, I have frequently been importuned to write a comprehensive report of that gratifying outcome of the Pearl Harbor disaster. However, in view of other work and avocations, and especially because of the immensity of the task, if it was to be authentic, I was negatively inclined, -- at least until a more propitious time.
It was not until the early part of 1965 that the Director of Naval History, Rear Admiral Ernest M. Eller, U.S. Navy, Retired, persuaded me to take the pen in hand. His argument was that the Pearl Harbor Salvage Operation should be made a matter of historical record, and could in addition serve as a ready reference book for any future work of that nature; also that he knew of no other person who could write a reasonably authentic account with the data and information still available. So, in a way, I was "Hobson's Choice" if the work was to be done at all.
Fortunately, I had rather complete files covering the work, inasmuch as through the years I had become some sort of "pack rat" on technical records pertaining to my specialty of ship design, construction, and repair. Although I had turned over most of these files and photographs to the Bureau of Ships of the Navy Department, they were returned to me when I agreed to undertake the writing job.
Despite the fact that nearly a quarter of a century has elapsed since the event a great portion of the impact of my experiences at Pearl Harbor and the salvage work is still quite clear in my memory. At that time I was Material Officer on the staff of Vice Admiral William S. Pye, commander of the Battle Force of the Pacific Fleet. Therefore the handling of the damage sustained by ships of the fleet immediately became of first concern to me as an existent responsibility. Within a short time I was relieved of all other duties and ordered to full time work as Fleet Salvage Officer.
Ever since those days I have at times pondered the events which occurred before and after the Japanese air raid, and have often wished that the American people might have obtained a more correct understanding of the "Whys and Wherefores." It bothered me greatly when, following the
--vii--
attack, so many Americans and so much of our news media took a "Who dunnit" attitude toward the disaster and seemed to be more anxious to blame military negligence and inattention to duty rather than to gain a right appraisal of the panorama of events. Perhaps it is an element of human nature to accuse individuals and to find scapegoats whenever distasteful events occur.
Consequently, with the knowledge of one who was on the scene at the time, and of one willing to undertake a vast amount of research from official and other sources, I agreed to proceed with the salvage write-up, -- provided I could at the same time pinpoint the situation which pertained in the fleet and in our relations with Japan at that period.
In order to do this with some semblance of authenticity I have reviewed a goodly portion of the testimony given before the Roberts Commission in December 1941 and January 1942, the Hart Investigation in 1944, the Hewitt Inquiry of 1945, the Naval Court of Inquiry of 1944, the Army Investigation in 1944, the Congressional Investigation of 1945, and the State Department releases published in 1953. This latter has been drawn upon freely as it is the official report of the United States' Foreign Policy from 1931 to 1941 inclusive, and is entitled Peace and War. Also I have read a considerable number of books and reports on the Pearl Harbor attack, some written by Japanese participants. Virtually all of this information has the advantage of hindsight so far as evaluation is concerned and is therefore of inestimable value in piecing together a momentous event which requires retrospection as a primary ingredient.
The Pearl Harbor episode brought forth multitudinous opinions and convictions, some highly emotional and some pertaining to personalities. Others were based on cold logic and technical facts. In the over-all we must all agree that the event which set off a cruel and bloody war is fraught with many lessons and guideposts for the future. I have endeavored to pinpoint a few of these which are particularly worthwhile, and have striven honestly to be fair to all persons who were involved in any way either before, during, or after the event.
The final appraisal of the Pearl Harbor attack is given in Chapter XV. It reveals indisputably that the Japanese government made a great mistake in attacking Pearl Harbor, as it did also in other aspects of the struggle for dominance in the Pacific. There is now no doubt that the attack resulted from the gross unpreparedness of the American military forces, as was
--viii--
attested by the 1945 statement of President Truman and the 1965 statement of Admiral Nimitz.
I am indebted to the Director of Naval History and his staff for invaluable assistance throughout, and of course for general guidance. That office has furnished much valuable data and information such as official damage reports from the Bureau of Ships, descriptions of rehabilitation work from various naval shipyards, pertinent excerpts from ships' logs, and so forth.
Also, I am most grateful to the Commandant of the Thirteenth Naval District, Rear Admiral William E. Ferrall, U.S. Navy, and his staff for much assistance, including office space and equipment, some secretarial work, and a widespread spirit of cooperation and helpfulness.
HOMER N. WALLIN,
Vice Admiral, USN (Retired).
--ix--
Contents

Page

Foreword
v
Preface
vii
Index
365

Chapter I

INTRODUCTION
1-8

Chapter II

THE TRENDS TOWARD WAR
9-24
1.
Basic Causes of War
9
2.
Germany's Insatiable Appetite for Aggression
9
3.
The Aggressions of Italy
12
4.
The Brutal Aggressiveness of Japan
14

Chapter III

PROBLEMS AND DILEMMAS OF THE UNITED STATES AND EVENTUAL PREPAREDNESS FOR WAR
25-40
1.
American Attitudes and Policies
25
2.
Retrenchment in Military Preparedness
26
3.
Diplomacy at Work to Prevent War and to Improve Preparedness for War
28
4.
Hardening of Public Opinion
31
5.
Assistance to Friendly Nations
33
6.
Military Preparedness Measures
35

Chapter IV

THE FLEET AT PEARL HARBOR
41-58
1.
Why Was the Fleet There?
41
2.
Army-Navy Defense of Pearl Harbor
43
3.
Reconnaissance
44
4.
Radar
48
5.
Operation of the Fleet
50
6.
How Powerful Was the Fleet?
51
7.
Where Were the Fleet Ships on 7 December?
54

Chapter V

IMMINENCE OF WAR
59-82
1.
Breakdown of Diplomacy
59
2.
Japan's Knowledge of Pearl Harbor
60
3.
America's Knowledge of Japan's Intentions
65
4.
Warning to the Fleet
74
5.
What Information Did Hawaii Not Receive?
79

Chapter VI

JAPANESE ATTACK, STRATEGY, AND TACTICS
83-98
1.
Preparedness, War Games, and Drills
83
2.
Assembling of Attack Force
85
3.
Route of the Pearl Harbor Attack Force
85
4.
The Attack Force
88
5.
The Attack
88
6.
Direction of Attack
94
7.
Submarines
94
8.
Japanese Losses
94
9.
Japanese Estimates of Damage to the Americans
96

Chapter VII

RESULTS OF JAPANESE SURPRISE AIR RAID
99-112
1.
Sunday Was a Day of Rest in Hawaii in Peacetime
99
2.
Submarines
100
3.
We Are at War
100
4.
All Air Bases Immobilized
101
5.
Ships Attacked by Torpedo Planes
102
6.
Inboard Ships Hit by High-level Bombers
104
7.
Losses in Honolulu
105
8.
Officers and Men Aboard Ship and Fit for Duty
105
9.
Anti-aircraft Batteries Which Opposed the Japanese Planes 106
106
10.
Deeds of Heroism
108
11.
Total Dead and Wounded in the Services
108
12.
Sabotage
108
13.
State of Mind of Military Personnel
109

Chapter VIII

WASHINGTON'S RESPONSE TO THE JAPANESE ATTACK
113-124
1.
Military and Civilians Taken by Surprise
113
2.
Declaration of War
114
3.
Secretary of the Navy Visits Pearl Harbor
114
4.
The Roberts Commission
115
5.
President Roosevelt's Fireside Chat
116
6.
Admiral Kimmel and General Short Relieved
117
7.
Admiral C. W. Nimitz Takes Command
118
8.
Admiral Ernest J. King Becomes Commander-in-Chief of the U.S. Fleet
118
9.
Admiral Nimitz's Policy of a "Limited Offensive"
120
10.
Halsey's Early Raids
121

Chapter IX

OBSERVATIONS AND STATEMENTS MADE BY SURVIVORS
125-160
1.
Condition of Ships at 0755
125
2.
Impressions and Actions on USS

West Virginia

126
3.
Impressions and Actions on USS

Oklahoma

132
4.
Impressions and Actions on USS

Arizona

136
5.
Impressions and Actions on USS

California

140
6.
Impressions and Actions on USS

Utah

146
7.
The Performance of USS

Nevada

150
8.
Impressions and Actions on USS

Maryland

152
9.
Impressions and Actions on USS

Tennessee

156

Chapter X

OTHER SHIPS' OFFICIAL REPORTS
161-174
1.
Destroyers
161
2.
Battleships
165
3.
Cruisers
165
4.
Miscellaneous Auxiliary Ships
168
5.
Submarines
169
6.

Oglala

170

Chapter XI

"ALL HANDS" ENGAGED IN SALVAGE WORK
175-188
1.
Priority of Work
175
2.
Helping Each Other and Repelling Enemy Attacks
176
3.
Freeing the Trapped Men
176
4.
Salvage Operations from

Argonne

178
5.
Start of Salvage Organization
179
6.
Recovery of Ordnance Material
186
7.
Medical Help for Wounded or Burned
186

Chapter XII

GETTING THE LESS DAMAGED SHIPS READY FOR ACTION
189-202
1.
USS

Pennsylvania,

Battleship (Launched in 1915)
189
2.
USS

Honolulu,

Cruiser (Launched in 1936)
191
3.
USS

Helena,

Cruiser (Launched in 1939)
192
4.
USS

Maryland,

Battleship (Launched in 1920)
192
5.
USS

Tennessee,

Battleship (Launched in 1919)
193
6.
USS

Vestal,

Repair Ship (Launched in 1908)
194
7.
USS

Raleigh,

Cruiser (Launched in 1922)
195
8.
USS

Curtiss,

Seaplane Tender (Launched in 1940)
197
9.
USS

Helm,

Destroyer (Launched in 1937)
198

Chapter XIII

SHIPS SUNK AT PEARL HARBOR
203-272
1.
USS

Shaw,

Destroyer (Launched in 1935)
203
2.

Floating Drydock Number Two

205
3.
The Tug

Sotoyomo

206
4.
USS

Cassin

(Launched in 1935) and

Downes

(Launched In 1936)
206
5.
USS

Nevada

Battleship (Launched in 1914)
211
6.
USS

California,

Battleship (Launched in 1919)
222
7.
USS

West Virginia

Battleship (Launched in 1921)
233
8.
USS

Oglala

(Launched in 1907)
243
9.
USS

Plunger

(Launched in 1936)
252
10.
USS

Oklahoma,

Battleship (Launched in 1914)
253
11.
USS

Utah,

Former Battleship (Launched in 1909)
262
12.
USS

Arizona,

Battleship (Launched in 1913)
267

Chapter XIV

CONDITIONS WHICH PREVAILED OR WERE ENCOUNTERED IN SALVAGE WORK
273-286
1.
Lack of Material
273
2.
Fire Hazards on the Ships Themselves
273
3.
Salvage of Ordnance Material
274
4.
Electrical Equipment
275
5.
Japanese Torpedoes and Bombs
276
6.
Diving Experience
277
7.
Deadly Gas Encountered on Most Ships
277
8.
Gasoline Explosions
279
9.
Electric-Drive Battleships
280
10.
Classified Correspondence and Personal Property
280
11.
Removal of Human Bodies
280
12.
Cleaning of Compartments
281
13.
Work Performed by the Navy Yard
281
14.
Use of Sunken or Damaged Ships in the War Effort
282
15.
Spirit of the Salvage Crew
283

Chapter XV

FINAL APPRAISAL OF PEARL HARBOR ATTACK
287-296
1.
Japan's Mistake in Attacking Pearl Harbor
287
2.
Other Mistakes Made by the Japanese
291
3.
United States' Aversion to War
292

Appendices

297-363
A.
Survivors' Statements and Actions
297
B.
Restoration of Unwatered Compartments and Machinery of Sunken Ships
328
C.
Gas Hazard and Protection Against Gas
337
D.
Electric-Drive Machinery of Battleships
339
E.
The Salvage of USS

West Virginia

342
F.
The Plan for the Salvage of USS

Oklahoma

356
G.
Ships Present at Pearl Harbor and Vicinity, 7 December 1941
362
--xv--