From Friends Number 20 December 11th. 1970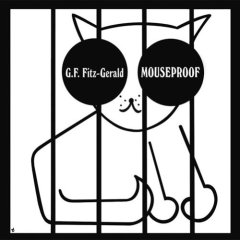 RECORD REVIEWS

MOUSEPROOF
G.F. Fitzgerald
Uni. UNLS 115 (MAB 2041)
"The Self is a vast and seemingly intricate network Spun over a single bridge. The spans expand and intertwine in many lands. Over this bridge there is much coming and going. The centre strut is not fixed even though it holds the bridge together. The strut is here, is there, is everywhere."

Many years ago, no doubt in the dead of night, some intrepid freak climbed fly-like up the walls of the defunct International Film Theatre in Westbourne Grove and pasted up a poster which read "Mouseproof Is Music".
Many times did I gaze fixidly from the top of a number 15 bus at the mysterious cat wearing shades, peering through the bars in the poster. And now the mystery is perceived; Mouseproof is an album by ace alchemist and cat-handler Gerry Fitzgerald, featuring some very notable little riffs by such famed performers as Lady June Campbell-Cramer on Ethiopian Nose Harmonium and Cochise Brian Cole on Electric Hair slide and coal scuttle. Best track by far is one called "Factory Sample Not For Resale", obviously written to wobble the frontal lobes and tickle the medulla, it works too.
Overall effect of the album is like crashing a car into a ditch on acid and then finding that you're unhurt, except for a broken finger nail, and that needed cutting anyway.
Listening to Mouseproof the first time it's very easy to recognise traces of Zappa, Dylan, Bonzo Dog, Tod Dockstader and Capt. Beefheart. I listened to it a second time and began to find bits of Ray Connif, Sha-na-na, Mike and Sheila, Soft Machine, Charlton Athletic and some of that nice organic mescaline. But even after a dozen hearings its very difficult to try to describe the sound of your own mind snapping or one hand clapping, indeed, by beautiful music which took so much time and love to get together.

"You are the fragrance that draws the bee to the Flower and you are the flower and the bee. You and you are like two indicators pointed in the extremes at moments of crises; from each point streams a vitalness in an opposite direction. From the Point whence the Points originate lies The Meaning. Do not differentiate the indicators; handle only, no situation is either a positive or a negative. There is no judgement anywhere; there is only the Handler who knows. Recall that you are the handler and you are not to be manhandled."

- from "The New Tarot"

Keep each other warm this winter.

Copyright © 1970 - 2022 Phil Franks