Lady June
June 3rd. 1931 - June 7th. 1999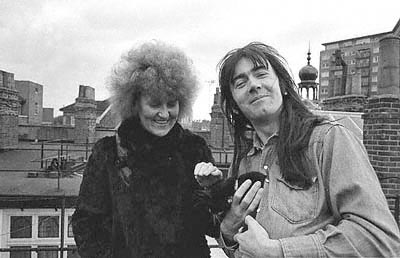 Lady June with Gerry Fitzgerald
I AM THE HAPPY MOTHER FUCKER OF SPRING, SHE SINGS, SO
TAKE A BREAK AND WHILE AWAY SOMETIME - AND SO SAYING
BROKE OFF TWO ARMS TO ROLL A JOINT OF ILLEGALITIES,
BROKE OF A MOUTH TO SMOKE IT WITH A COUPLE OF LIPS FOR COMPANY
AND CO. LTD. YOURS INSINCERELY, UNFAITHFULLY.
AMEN, BMEN, SEMEN, OH MEN, OM (PUT THAT IN YOUR 'UMP)
SAID THE CAMEL TO THE DROMEDARY'S GURU, WHO SAID HE DIDN'T DIG
FRIED SHRIMPS ON CHIPS ON FRIDAYS ANYDAY, REALIZING IT WAS ONLY A MIRAGE
AND HE COULDN'T TELL THE DIFFERENCE FROM BUTTER,
SO THEY CUT OFF HIS JEWISH COMMERCIALS,
AND NEVER GOT PAID FOR HIS REPEATS, HE BURPED.
Last verse of "THE LETTER" by June Campbell-Cramer COPYRIGHT © LADY JUNE
appearing on VIRGIN RECORD C1509 "Lady June's Linguistic Leprosy"
Sleeve credits: Ta verily munch for Faith, Hope, and Charity (and Taa - Ta's all over your places.) Gilli Smythe,
Daevid Allen
, Kevin,
Eno
, Archie Legget, Robert 'n Alfie, Steve Hillage, Didier Malherbe, Tim Blake, Graham Lane, Dick Gilbert, Dick O'Brian & Angele, 'Virgin' Mary, Didy 'Darling' Brooks, Geoff Leigh,
Phil Franks
, Lol Coxhill, Dave Stewart &
The 'HATFIELDS'
. Mick Dunn, Linda & Cal Batchelor, Gerry Fields, Pete 'n Celia, 'MAMA FLYER',
John Coleman
, John Lundsten, Frank, Melanie,
Gerry 'Mouseproof'
, Bobby Stignac, David Bedford, 'Roadie' Paul 'n Libby, Gert - Jan, Ron & Frankie G-sin, Al 'n Yolli,
Barney Bubbles
,
Time Out
, Tony & Sandy Powles, Val 'n Bruce Findlay,
Allen Ginsberg
(who don't know why) 'Melkweg', Cor, Suzanne Graham, Hans & Paddy, Peter Pussydog, Eveline, Rosalie van Leer, Kristen
Branson
, Carol Aitken.

Philm Freax | Friends | Phil Franks | Guestbook | Links | What's New

contact: Phil Franks (freaxATphilmfreaxDOTcom)
Freax Website produced by Malcolm Humes