Home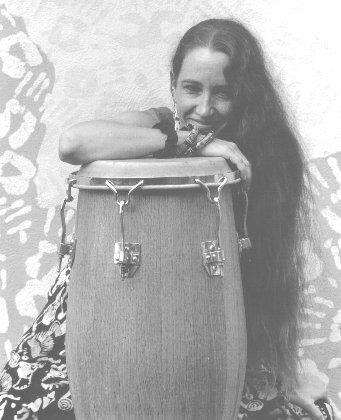 Beverly Botsford is a cross-cultural percussionist and educator with a unique perspective. A native of Charlotte, NC, her passion for rhythm emerged in 1973 while attending the University of Colorado. Through dance and ethnomusicology, the drums of the African Diaspora called to her and being a nice, well-bred, Southern white girl... she obeyed. This calling has led her on a fascinating journey, rich with life-changing human connections as well as controversy. From Hollywood to Sicily to Brazil to the classrooms of Carolina everywhere Beverly performs, she brings passion, honesty, boundless knowledge and an open heart.

Her doctorate is from the School of Life and shes been gifted seeds of musical wisdom from master musicians Mamady Keita, Khalid Saleen, Regino Jimenez and Michael Spiro, among others. Her hunger for knowledge has lead her to study in Cuba, Africa and Brazil, and with the supreme symphony of natures sounds in her own backyard in Durham, NC.

Beverly celebrates more than 25 years of full-time, professional experience, performing and teaching in an infinite variety of situations. Highlights include touring with Chuck Davis and the African American Dance Ensemble (1983-96), American Dance Festival Faculty (1985-99), as well as Arts in Education work in countless schools and communities (1978 to present). A lover of jazz, she has shared the stage with, among others, Sir Roland Hanna, Bud Shank and Tito Puente. Since 1998, Beverly has toured with five-time Grammy-nominated jazz vocalist Nnenna Freelon, performing in major jazz festivals, clubs and theaters around the world.

She is committed to the power of art to educate, heal, enlighten and inspire, and blends percussion, movement and stories in solo performances for schools and communities.

Beverly is currently on the touring/residency rosters for the N.C. Arts Council, and the S.C. Arts Commission. She is a member of Alternate ROOTS (Regional Organization of Theaters South), supporting original, community-based art that raises social consciousness.