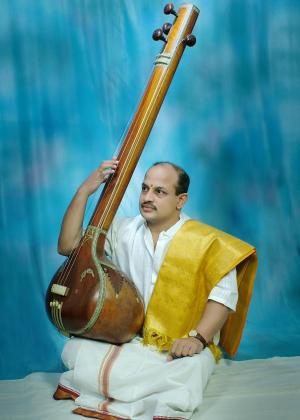 Dr.T.V.Manikandan is a familiar name in the field of Indian Classical Music . He is well-known for his traditional approach with purity and classism. His melodious and clear voice take the listeners to a divine world of peace and sheer enjoyment. According to his critics his music is a treat to ears and a food to soul.
Hailing from a family of musicians,Dr. Manikandan started learning music at a tender age of four, from his Grand father late Sri. Kadathnadu Govindan Nambisan , a great Musician of his time. Later he came under the tutelage of Sri Trippunithura Viswanatha Bhagavathar and gave his debut performance at the age of nine and later he got trained by Sri Trissur P. Radhakrishnan. He completed his Bachelor's in music from Govt.Collage, Chittoor. He holds Masters in Music and M.Phil from Delhi University and done extensive research in Karnatic Music under the guidance of Padmabhushan, Sangita Kalanidhi, Prof. T.N.Krishnan . He recieved "National Scholarship" from the Dept.of Culture, Govt.of India, to sharpen his quality by further training in music from Sangita Kalanidhi Prof. T.N.Krishnan.

He authored several articles and books, on music, viz "The Lakshna and lakshya of Karnatik Music – A Quest", "Glimpses of Karnatik Music" ,and released several musical albums of light devotional songs and classical music, which are highly acclaimed by listerers and critics. His latest Audio CD "Swathi Smrithi", a collection of rare Swathi Thirunal krithis was released by "Satyam Audios". He is a graded artist of All India Radio & give regular performance in Doordarshan, All India Radio, World Space, and other T.V.Channels. At present , Dr. Manikandan is a Reader in the Faculty of Music & Finearts, Delhi University.

He has the credit of chairing several Reasearch Boards and Panelsof Universities like DU,Indira Gandhi Univ for Music and Dance Chattisgarh. Calicut University etc. and under the Ministry of culture. Besides singing and research. he is grooming several youngsters to upcoming musicians. His talented disciples are all set to keep the tradition alive for the years to come. Many of them are recipients of the Government's scholarships. His contribution to Music has been recognized by several Musical Society by conferring titles and awards like "Ariyakudi Ramanuja Iyengar Award" from Chennai, "Sangita Kovida" by Gayatri Fine Arts,"Sangita Bhaskara" by Asthik Samaj etc; to name a few.To promote and spread Music and culture in the capital he has started an organization "Rasikapriya" and conducted several workshops and concerts . The latest being the Nine day long Navrathri Festival Featuring Eminent Artistes from all over India. Like sh.T.V.Gopalakrishnan,Sh.V.Dakshinamoorty, Prof.Unnikrishnan, Smt. Deepthi Bhalla ,Smt Lakshmi Rajagopalan etc.

Widely traveled for performances allover India under the aegis of several reputed Musical organizations, he has participated in several Music festivals like Chemmbai Festival ,YuvaMahothsav,Gangafestival , Holikothsav Swami Haridas festival ,HCL Concert Series,Sangeet Natak Academy ,IIC and several established Sangita Sabhas in Tamilnadu, Kerala and southern states.