Opportunities
Ways you can participate in and support the activities of The Walker Percy Project
Like what you see? Want to participate in or support The Walker Percy Project?
Here are a few ways to make your voice heard.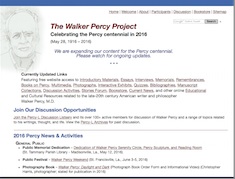 Ongoing Opportunities
- Read the Director's Welcome
- Join Discussion on Percy-L
- Buy Some Percy Books
- Share How Reading Percy Changed You
- Submit Teaching Materials
- Sponsor Special Project Initiatives
- Recommend The Project to a Friend
Special Project Initiatives
- Contribute Scholarly Book Annotations from your next Graduate Seminar on Percy (for professors)
- Support publication of a scholarly essay collection exploring the ongoing relevance of Walker Percy's perspectives on "Science, Technology, & Semiotics" in their rapid development in the 21st Century
Don't let Walker Percy Get "Lost in the Cosmos!"
The Walker Percy Project is indexed in all major search engines and Internet catalogues dedicated to literary study.
Fostering Inquiry into the Life, Work, and Thought of
20th Century American Writer and Philosopher Walker Percy, M.D.