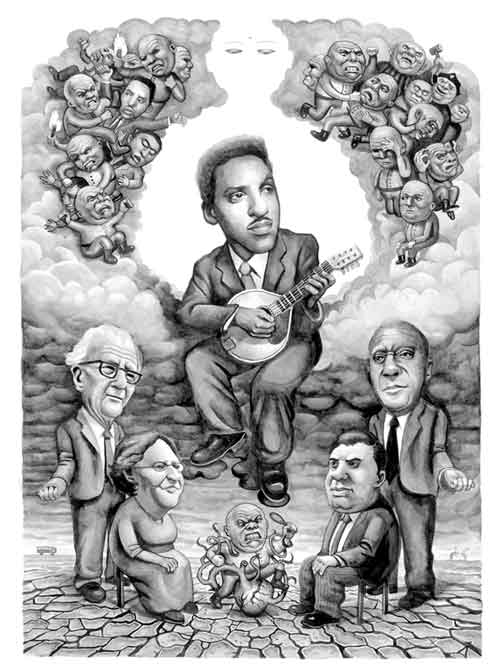 As promised in this week's (print) edition of MILL, the following narrative to accompanies the artwork by Phil Blank featuring Bayard Rustin. Via Phil:
April 13, 1947. Chapel Hill, North Carolina. Along with three other members of the Journey of Reconciliation, Bayard Rustin was arrested for refusing to move from the whites-only section of an interstate bus. After their release from the courthouse, two cars followed the men to the home of Rev. Charles Jones. A few minutes after arriving, the phone rang. A voice said, "Get those damn niggers out of town or we'll burn your house down." For his "crime," Rustin spent twenty-two days on a Roxboro chain gang. Writing articles for the New York Post while in prison, Rustin exposed the cruel conditions there. Of an earlier encounter in which he refused to give up his seat on a bus, Bayard Rustin said "I believe all the more strongly in the nonviolent approach." The respect and seriousness with which his struggle was met, he believed, was "because I had without fear, faced the policeman and said 'there is no need to beat me, I offer you no resistance.'"

From left: A. J. Muste: revolutionary pacifist, Julia Rustin, his Quaker grandmother who offered her acceptance of Bayard's sexuality, "I suppose that's what you need to do" To Rustin, "It was recognition so I never had guilt." Krishnalal Shridharani, nonviolent theorist and inspiration, A Philip Randolph, tactician for economic justice and believer in the fundamental unity of peoples.