Local film roundup



by Margot C. Lester
There's a lot of news on the local film front, so here's a roundup of festivals, campaigns and other items of interest.
Fund a local film (or two)!

Two local filmmakers have turned to Kickstarter to fund their next ventures.
Miner Light Productions, the folks who brought us El Caffinato, are seeking $5,000 in financing for a new project, Written on Your Face, a 20-minute romantic comedy short set on a – wait for it – college campus. The deadline for securing the funds is June 9. Learn more about the fundraising and the film at kck.st/minerlight
Joe Schenkenberg, the man behind the slug, is hoping to raise $8,500 for the follow-up to Wiggle Room. The new project, SCI-FLY: A Stop-Motion Space Odyssey, is an adventure short featuring the space vessel Spud and a black hole. The deadline for donating is June 3. Read about the financing effort and the movie at kck.st/joeyshanks
Meanwhile, Wiggle Room continues to charm festival judges and audiences. The movie won best animated short at the USA Film Festival, best animated film at the Indie Grits Film Festival and best animation at the Cape Fear Film Festival.
N.C.'s red wolves star in documentary
Jeff Mittelstadt, Roy H. Park Fellow at the UNC School of Journalism and Mass Communication, has created an interactive documentary website (wildsides.org/redwolf) showcasing the conflict between the Old North State's 100 red wolves and deer hunters down east. Visitors to the site can vote for the next short to be released via facebook.com/WildSides.org. WildSides is a nonprofit that creates media to foster discussion and engagement about human-wildlife conflicts. It's the same team who produced last year's Coal: A Love Story.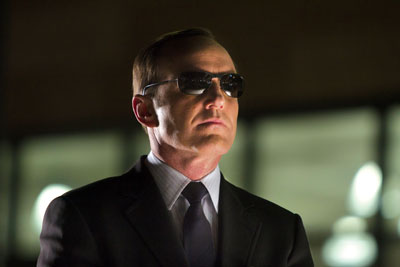 Local (action) hero?
The Avengers' opening weekend box office was as eye-popping as the film itself. The Marvel picture earned $207.4 million in its U.S. debut, destroying the previous mark established by 2012's Harry Potter and the Deathly Hallows Part 2, which earned a now-seemingly paltry $169.2 million. Despite The Avengers' high-profile stars like Scarlet Johansson and Robert Downey Jr., it's former local resident Clark Gregg who's getting the most buzz. His recurring character, Agent Phil Coulson, is a breakout fan favorite. How much is he loved? There's an active Twitter campaign to have the character added to Hasbro's current set of Avengers action heroes and even a petition (chn.ge/agentcoulson) for people who want to go further in showing their support.
Carrboro Film Festival gears up
Preparations for the seventh-annual Carrboro Film Festival are under way. The first organizational meeting is June 12 at 6 p.m. downstairs at the Century Center. Anyone interested in working on the festival – and watching lots of short films – is invited to attend. The submission deadline will be announced in June. Led as usual by Jackie Helvey and Nic Beery, the event is one of the largest short film festivals in the Southeast and draws filmmakers and audience members from around the state. Primarily funded by ticket sales and support from the Town of Carrboro, the festival relies on sponsors for the balance of its budget. Sponsorships are available at the $1,000, $500, $250 and $100 levels. Participating sponsors will be listed on the event's website and sponsors in the top three categories will be featured on the show reel on festival day. For information on volunteering or sponsoring, contact filmfest@carrboro.com
Mark your calendar
Speaking of local film festivals, the acclaimed North Carolina Gay & Lesbian Film Festival ("bigger, longer and more satisfying") will run Aug. 10-19 in Durham. Produced by the Bull City's Carolina Theatre, this year's event will be headlined by comedienne Kathy Griffin. For more information, visit carolinatheatre.org/ncglff
Got local film news? Know a local filmmaker we should profile? Email margot@carrborocitizen.com