Local filmmakers Revisiting Amendment One
by Margot C. Lester
For Moncure-based filmmaker Jordan Mendys, the fight against Amendment One didn't stop on May 8. He's making a film about the people affected by the amendment's passage to keep the issue alive.
"We need to have [films] like this that the people can rally around," Mendys says. He hopes *Re*Defining Family will help influence policy on a state and national level by busting myths about the people affected by discriminatory documents like Amendment One.
"I wanted to show real people who were going to be hurt, and how much they had in common with those that were voting against them. If people saw that, they might be swayed to repeal [amendments] like this."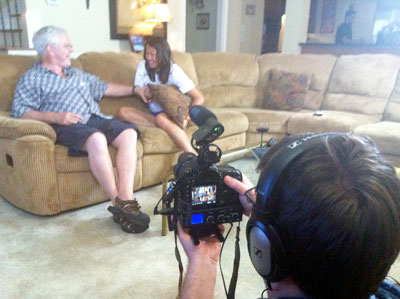 This is Mendys' first "real" film, as he calls it, and definitely his largest project. He'll use the film as his master's thesis for a graduate degree in film and video from American University. He's financing the film through IndieGoGo, a crowdfunding site for independent artists: bit.ly/RedefiningFamily. Mendys hopes to raise $1,000 by Sept. 23.
"When you support a local filmmaker, you are allowing an artist to grow and reach their potential," he says. "It's nice to support the views of independent media makers instead of supporting the voice of corporations."
Documenting power-pop royalty
A self-proclaimed live-music junkie during his college years, Mike Allen is turning his passion for power-pop into a film documenting some of the area's local music legends. Bring It On Home is a feature-length documentary developed by Allen (a creative director at Chapel Hill marketing firm Jennings) and produced by Raleigh-based filmmaker Herb Campbell of Big FAT Film.
Allen got the idea while reminiscing about the 1980s power-pop scene over beers at He's Not Here.
"Someone said, 'Nobody's ever done a documentary on that,' so we did," he recalls. "I'm afraid that many of the very influential bands and artists – Arrogance, The Knobs, The Woods, Don Dixon, Robert Kirkland, the dBs, the Flat Duo Jets, Let's Active, etc. – will just be footnotes unless we document their contributions to not just Southern pop, but to music in general. None of these bands or artists is a household name to this generation of music fans, but when you start mentioning R.E.M., The Smithereens and other bigger-name bands from this era and beyond, you realize the influence that our North Carolina artists had on them. It's pretty amazing. We just want people to learn about these bands and musicians and their places in the history of this state and beyond."
The majority of the footage is shot in Raleigh, Winston-Salem and at Local 506 and Cat's Cradle, and a slew of local artists appear in the film. Allen and Campbell are underwriting the film via the popular crowdfunding site Kickstarter: bit.ly/BringItOnHomeMovie. They aim to raise $16,460 by Sept. 28.
"We talked about applying for arts grants, but we all have full-time jobs and families and outside commitments, and grant-writing is so time consuming," Allen says.
The filmmakers hope to enter the documentary in film festivals and have a few screenings and perhaps a concert locally.
"We did this as a labor of love – with absolutely no plans to make any money off of it," Allen says. "We simply wanted a great document to share with all the musicians."
Calling Young Filmmakers!
Here's a special notice from Adela Mann, a 14-year-old member of the Carrboro Film Festival Committee:
Did you know kids like us can submit short videos that could be chosen for the festival? Just because you're a kid doesn't mean you aren't capable of making a short film (and when I say short, I'm talking about under 20 minutes). My friend Blake Ethridge and I made a short film to promote the festival and had tons of fun figuring out where to shoot and what should be happening in the video. [Watch it here: bit.ly/K12Submit2CFF7] You can make a video about anything. Go crazy and let yourself be creative! Get a bunch of friends and make a music video, or come up with a story based on something that has happened in your life. Now, don't go thinking that just because you're a kid that you won't make it in. Films by kids 18 and under aren't judged like adults', so don't be worried. The deadline for submitting is Sept. 30, so it's just around the corner. Visit carrborofilmfestival.com for information about how to submit your film. What are you waiting for?