by Vicky Dickson



"DURHAM! WHY IN THE WORLD would you want to move to Durham?" a snobby Chapel Hillian once asked Ceil Cleveland, one of the contributors to the just-released 27 Views of Durham.
I'm embarrassed to admit that that's an attitude I once shared. Though I was born in Durham, in a now-defunct hospital where the N.C. School of Math and Science now stands, it's a city I never paid much attention to throughout childhood and early adulthood, other than to hate Duke, of course.
And though I've lately come to appreciate the wealth of culinary, musical and artistic creativity to be found in Durham these days, there's still much about the city and its history that I'm ignorant about. So the fourth book in Eno Publishers' 27 Views series has been a real education for me, as well as a real pleasure to read.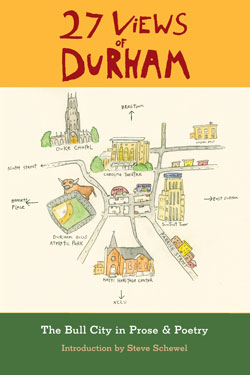 As Independent Weekly founder and Durham City Council member Steve Schewel points out in his introduction, the writers of 27 Views of Durham don't shy away from describing the city's issues of poverty, discrimination and crime. "The City," by George Yamazawa Jr. is a powerfully rendered poetic call for an end to gang violence in Durham. And Carl W. Kenney II's story, "Home is a Cup of Coffee," poignantly evokes the heartrending results of that violence.
But 27 Views of Durham makes it clear that those who have used the city's problems as an excuse to stay away have seriously deprived themselves. It makes clear that eating at one of the city's impressive restaurants or attending a world-class performance at Duke or DPAC only scratches the surface of the fun and enlightenment to be had in Durham.
There's the ballpark, for instance. Adam Sobsey tells, in "Home Again," how he "crookedly" grew up at the Durham Athletic Park. And another Durham native, Clyde Edgerton, brings to life the 110-year history of the parks the Durham Bulls have called home in his story, "Last days, Old Ballpark."
There's Kirsten Mullen's "Watching Pictures in the Dark," an account of biracial audience participation at Lakewood Shopping Center's much-missed Center Theatre that will make you think twice about shushing chattering moviegoers.
And there's Cliff Bellamy's "My Park, Everybody's Park," about Durham Central Park. His description of the parades, "splash mobs" and film screenings that make the park a vibrant contributor to Durham city life will inspire readers to plan a trip to the vicinity just to check it out.
History buffs will enjoy "The Sloping Hills," a memoir excerpt about black schooling in Durham by Walter Matthew Brown. They'll also appreciate Jean Bradley Anderson's "Remembering a Town Father," which focuses on Durham's early days.
For music enthusiasts, there's "Wonderland," excerpted from Lewis Shiner's Black and White, which paints such an enticing picture of Hayti's music scene in the early '60s that you'll wish you could time-travel there.
"Shirley's Garden: An Oral History," by David Cecelski, describes a Durham garden created for people suffering from HIV/AIDS. Barry Yeoman's "The Morning After Amendment One" celebrates the community's reaction to last May's passage of the anti-gay marriage amendment. Both make the point that Durham's greatest assets are the people who've chosen to live in the town that Katy Munger writes about in "Best of Towns, Worst of Towns – My Town," who've chosen Durham perhaps because they see it as Munger does: "the town that is what it is, with few pretensions; the town that manages to find room for everyone, without making anyone feel out of place; the town that, like all good relationships, lets you be yourself."
The rollicking launch of 27 Views of Durham at Motorco Sept. 27 proved how much that city's denizens love where they live. Schewel delighted the crowd with, "Chapel Hill – it really is a great place to live … 10 miles away from." (Hmm, maybe I can still hate Duke.) But if you missed that party, you have another opportunity to hear about the book and meet some of the authors. Just come to the Carolina Theatre in Durham on Oct. 21 at 2 p.m. for an event cosponsored by the theatre and the Durham Library Foundation. Your view of Durham will never be the same.