by Margot C. Lester
Easily the scariest film at last year's Carrboro Film Festival was Michael Sharpe's DEVILING (bit.ly/DEVILING), which earned the event's Best Actor (Robert Haulbrook as Ronald) and Best Narrative Fiction awards. It seems fitting to get an update on this horror short as we creep toward All Hallows' Eve.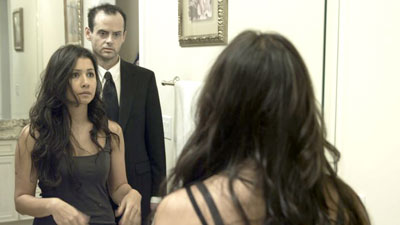 DEVILING has cast a spell on juries at festivals around the country, including the upcoming Freakshow Horror Film Festival (Orlando), Drunken Zombie Film Festival (Illinois) and the New Jersey and New York horror film festivals.
"When I make a film, I want to share the story with people," says Los Angeles-based Sharpe. "Film festivals are a great avenue to do that." It also has other benefits. "Getting accepted into festivals gives me a feeling of accomplishment [and] makes me want to make bigger and better films. It's important to hear new ideas or opinions of what people thought of the film."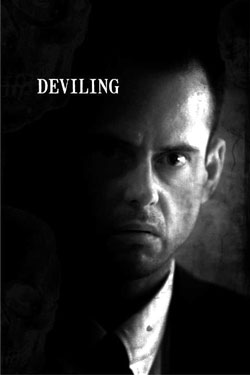 Sharpe was influenced by scary movies that "give you less imagery and force your imagination to take over, and that have atmosphere," he explains. Which is why he recommends the following films, along with DEVILING, for maximum Halloween viewing impact:
• Halloween (John Carpenter's original)
• Frankenstein (1931 version)
• The Exorcist
• The Shining
In other CFF alumni news, audience favorite Wiggle Room will finish up the 2012 film-festival circuit at the 23rd Annual New Orleans Film Festival. Filmmaker Joe Schenkenberg will be on the animation panel with William Joyce, director of the Oscar-winning animated short The Flying Books of Mr. Morris. And Schenkenberg's follow-up project, Sci-Fly, was picked up by PBS as a web series (bit.ly/JoeyShanksSFX).
"It's another step in the right direction as a filmmaker," Schenkenberg says.
The Southern Documentary Fund
The Durham-based Southern Documentary Fund (SDF) marks its 10th year cultivating documentary projects made in or made about the American South. Founded by documentarians Cynthia Hill and Steven Channing, SDF provides support, education, exhibition/distribution, advocacy, sponsorship/partnership and community to artists and non-fiction filmmakers.
"In an increasingly noisy and corporatized media landscape, independent media is more important than ever," says executive director Rachel Raney.
To that end, SDF has sponsored more than 100 projects, including 40 current endeavors covering everything from social justice and the environment to history and the arts.
"Regional voices are so important to understanding what's happening around the country, and it's rare to see Southern stories and voices featured in the national media," Raney says. "We also know that a vibrant arts scene and a large 'creative class' are big boosts to cities. Media makers are a big part of that, but need support organizations to nurture their work and help create community. We want our artists to stay in the South and thrive, not feel like they have to move to the West Coast or New York to 'make it.'"
SDF itself is getting a boost from Catchafire, an organization that links professionals with nonprofits to extend capacity.
"We have worked with them to identify their project-based needs, helped get these projects ready to be taken on by a Catchafire pro-bono professional and connected them to other social-good organizations locally and nationally," explains Adrienne Schmoeker, Catchafire's business development manager.
Other local organizations working with the company include The Arc of Orange County, The Scrap Exchange and Sacrificial Poets. Interested professionals and nonprofits can learn more at catchafire.org