Harvey Job Matusow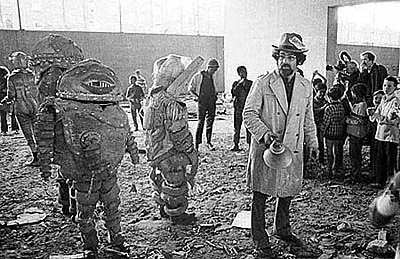 Harvey Job
makes contact with aliens under the flyover at
Portobello Road
. (Early 1970s)
Photo Copyright © 1969 - 2021 Phil Franks, All Rights Reserved.
Jim Carroll's book, Surviving the Information Age cites some quotes from Matusow on his attitude to technology back in 1969 when he founded the International Society for the Abolition of Data Processing Machines.
The latest news we can find on the web of our old friend Harvey Job shows he's well and doing good things in Utah. This is a nice piece from his local newspaper, The Salt Lake Tribune with some great photographs too.
see: THE WORLD OF JOB MATUSOW.
Harvey Job recently emailed us here at Philm Freax, answering Jim Carroll's question of where Harvey is now, and and it's sparked a collaborative new web site with Philm Freax site producer Malcolm Humes. Harvey's 3rd book, his life story, is being presented as a collaborative interactive feature here at Mal's Memory Overflow, with the possibility that Harvey's other books will be soon also on the web.
Have a look at Harvey's Stringless YoYo.