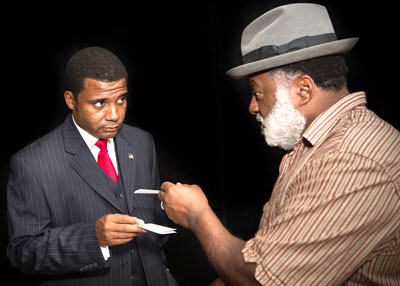 A politically and culturally charged comedic drama kicks off Deep Dish Theater's 12th season. Radio Golf tells the story of Harmond Wilks, a smart and successful man who wants to become the first black mayor of Pittsburgh. The tale takes place in 20th-century America, and many of the drama's moments speak to the society we currently live in.
Radio Golf is the last play in the Century Cycle, a series of 10 dramas written by August Wilson chronicling African-American life in 20th-century America.
Kathryn Hunter-Williams directs this powerful show, which features actor Mike Wiley in the lead role of Wilks.


The show runs through Sept. 15, with performances Wednesday and Thursday at 7:30 p.m., Friday and Saturday at 8 p.m. and Sunday at 2 p.m. Tickets are $21 for adults, $19 for seniors and $14 for students. There is a $2 discount on Wednesdays and Thursdays. For more information, visit deepdistheater.org or call (919) 968-1515 for ticket reservations.