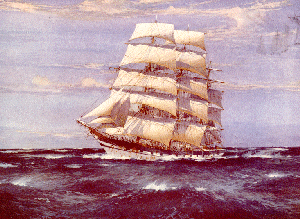 Lyrics:
D G
I am leaving old England, the land that I love
D A7 D A7
And I'm bound for across the sea;
D G
Oh, I'm bound for Australia, the land of the free
D A7 D
Where there'll be a welcome for me.
When I board me ship for the southward to go
She'll be looking so trim and so fine,
And I'll land me aboard, with me bags and me stores
From the dockside they'll cast off each line
Chorus
D G
So fill up your glasses and drink what you please
D A7 D A7
For whatever's the damage I'll pay
D G
So be easy and free, while you're drinkin' with me,
D A7 D
I'm a man you don't meet every day!
To land's end we'll tow, with our boys all so tight,
Wave a hearty good-bye to the shore,
And we'll drink the last drop to our country's green land
And the next day we'll nurse our heads sore.
We'll then pass Cape Looin all shipshape and trim,
Then head up for Adelaide Port,
Off Semaphore Roads we will there drop our hook,
And ashore boys we'll head for some sport.
Chorus
When I've worked in Australia for twenty long years,
One day will I head homeward bound,
With a nice little fortune tucked under me wing
By a steamship I'll travel I'm bound
So 'tis good-bye to Sally and good-bye to Sue
When I'm leavin' Australia so free
Where the gals are so kind, but the one left behind
Is the one that will one day splice me.
Chorus
� 1998 McGuinn Music Roger McGuinn