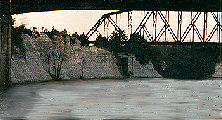 After the War of 1812, thousands of people moved to Ohio from the eastern states. Many came from New England, New York, and Pennsylvania. Immigrants arrrived from Germany and Great Britain.
The Erie Canal opened in 1825. The Ohio and Erie Canal, joining Cleveland and Portsmouth, was completed in 1845. For 25 years these canals were busy trade routes, piloted by burly, aggressive boatmen on long narrow craft. These keelboats were sharp at both ends, built on a keel and ribs.
Gradually the railroads replaced the keelboat as a form of commercial transportation and the canal traffic was greatly reduced.
I chose this song because we are on the road and traveling through Ohio. We stopped at Bill Lee's house in Dublin Ohio, and recorded this at his studio. We used a Martin D-41, 6-string and a 5-string banjo. The background vocals were provided by the Ohio River Boys.
Lyrics:
D
BOATMAN SING BOATMAN DANCE
A7 D
BOATMAN LOVE MISS MARY ANN
D
DANCE BOATMAN DANCE
D A7 D
DANCE BOATMAN DANCE
D G
DANCE ALL NIGHT 'TIL THE BROAD DAYLIGHT
G A7 D
GO HOME WITH THE GALS IN THE MORNING
G D
HEY HO BOATMAN ROW SAILING DOWN THE RIVER ON THE OHIO
G D A7 D
HEY HO BOATMAN ROW SAILING DOWN THE RIVER ON THE OHIO
G D
HEY HO BOATMAN ROW SAILING DOWN THE RIVER ON THE OHIO
G D A7 D
HEY HO BOATMAN ROW SAILING DOWN THE RIVER ON THE OHIO
D
BOATMAN DANCE BOATMAN SING
D A7 D
BOATMAN DO MOST ANYTHING
D
DANCE BOATMAN DANCE
D A7 D
DANCE BOATMAN DANCE
D G
DANCE ALL NIGHT 'TIL THE BROAD DAYLIGHT
G A7 D
GO HOME WITH THE GALS IN THE MORNING
G D
HEY HO BOATMAN ROW SAILING DOWN THE RIVER ON THE OHIO
G D A7 D
HEY HO BOATMAN ROW SAILING DOWN THE RIVER ON THE OHIO
G D
HEY HO BOATMAN ROW SAILING DOWN THE RIVER ON THE OHIO
G D A7 D
HEY HO BOATMAN ROW SAILING DOWN THE RIVER ON THE OHIO