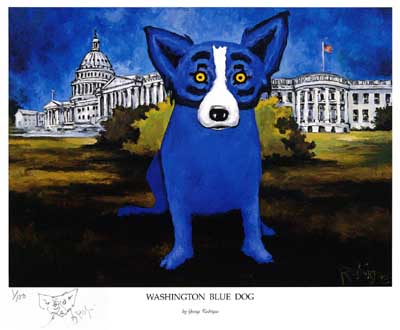 Blue Dog Painting by George Rodrigue
We recorded Old Blue on Dr. Byrds & Mr. Hyde in back 1968. I'd heard it performed live by Gibson and Camp at the Gate of Horn in Chicago in 1961 and had always loved it. There's a version by Jim Jackson on the Harry Smith Anthology but it's completely different, a lot more of a blues.
When I sing this in concert I ask the audience to clap along, following an unusual pattern. It's fun to hear them get the syncopation right. But someone always claps in the wrong place and makes everybody laugh.
Lyrics:
Old Blue (trad.)
[D] Well I had an old dog and his name was Blue
Yes I had an old dog and his [A] name was [D] Blue
Well I had an old dog and his name was Blue
I bet you five dollars he's a [A] good dog [D] too
Old Blue chased a possum up a holler limb
Blue chased a possum up a holler limb
Blue chased a possum up a holler limb
The possum growled, Blue whined at him
[D] Bye Bye [Bm] Blue, [G] you good dog [D] you
Bye Bye [Bm] Blue, you [G] good dog [D] you
When old Blue died he died so hard
He shook the ground in my back yard
We lowered him down with a golden chain
and every link we called his name
My old Blue was a good old hound
You'd hear him holler miles around
When I get to heaven first thing I'll do
is grab my horn and call for Blue
The Byrds "Dr.Byrds And Mr.Hyde"
Columbia Records 1968″