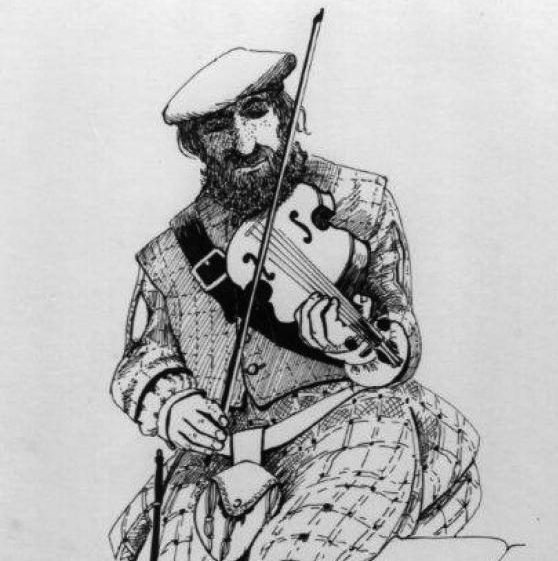 Jamie Macpherson was a Scottish robber, born in 1675, the illegitimate son of a Highland laird and a gypsy woman.
When his wealthy father, who had raised him in his house was killed by cattle thieves, he went to live with his gypsy mother. Growing up in that culture led him to a life of crime although he was more like Robin Hood in that he didn't rob the poor and disadvantaged.
Jamie was unusually strong and skilled as a swordsman and a violin player.
He was arrested for bearing arms at a market and sentenced to death by hanging on November 16, 1700.
There was a pardon on the way but the town advanced their clock 15 minutes so the hanging would take place before the pardon arrived. The town left the clock in that position for many years.
While in prison the night before his execution he composed this song. Before he was hanged, he played this tune beneath the gallows, and then, after playing his song, he offered his fiddle to his clansmen to play it at his wake. No one came forward, and so he broke the fiddle across his knee, throwing the pieces to the crowd, saying, "No one else shall play Jamie Macpherson's fiddle".The Clan Macpherson Museum in Newtonmore houses what remains of his fiddle.
In the folk process many elements of melodies are similar and interchangeable. There is a resemblance in this to "I Heard The Voice of Jesus." Click Here For: I Heard The Voice of Jesus

Lyrics:
[F] Farewell ye dungeons [C] dark and strong
[F] The wretch's [Dm] destiny
[F] MacPherson's life will [C] no' be long
[F] On yonder gallows [C] tree
[F] Sae rantingly, [C] sae wantonly
[F] Sae dauntingly gaed [Dm] he
[F] He played a tune and he [C] danced aroon
[F] Below the gallows [C] tree
Oh what is death but parting breath
On mony's the blood plain
I've seen his face and in this place
I scorn him yet again
Sae rantingly, sae wantonly
Sae dauntingly gaed he
He played a tune and he danced aroon
Below the gallows tree
I've lived a life of grief and strife
I die by trechery
But it breaks my heart, I must depart
And not avengá¨d be
Sae rantingly, sae wantonly
Sae dauntingly gaed he
He played a tune and he danced aroon
Below the gallows tree
Gae take these bonds from off my hands
And bring tae me my sword
And there's no' a man in all Scotland
But I'd brave him at his word
Sae rantingly, sae wantonly
Sae dauntingly gaed he
He played a tune and he danced aroon
Below the gallows tree