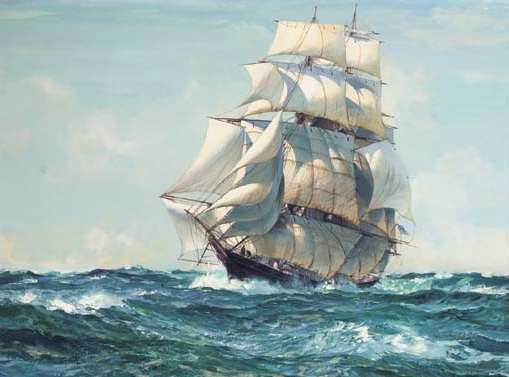 Camilla and I will be sailing from Valparaíso, Chile to Buenos Aires this month too. I thought another English sea chantey from the 1860's was in order. Why, because I love them!
I will be giving lectures on board the Silver Sea Muse. One of those lectures will be about sea chanteys.
Here's a brief description of the trip from the Silver Sea website:
Voyage to the soaring mountain peaks, and slowly scraping glaciers, of Chile. See poetic Valparaiso sprawling bright colors, colonial architecture and history haphazardly across the hills, before sailing amid the finger-like mountains of the staggering Chilean Fjords. Tour the flicking tail of the continent's southernmost tip, before dropping in on the Falkland Islands, Uruguay, and Argentina.
Lyrics:
Leaving of Liverpool
[D] Fare thee well to you, my [G] own true love,
[D] I am going far [A] away
[D] I am bound for [G] California,
[D] But I know that I'll be [A] home some [D] day
[A] So fare thee well, my [D] own true love,
For when I return, united we will [A] be
[D] It's not the leaving of Liverpool that [G] grieves me,
[D] But my darling when [A] I think of [D] thee
I am bound on a Yankee clipper ship,
Davy Crockett is her name,
And Burgess is the captain of her,
And they say that she is a floating shame
So fare thee well, my own true love,
For when I return, united we will be
It's not the leaving of Liverpool that grieves me,
But my darling when I think of thee
Oh the sun is high on the harbour, love,
And I wish I could remain,
For I know it'll be a long, long time,
Before you see me again
So fare thee well, my own true love,
For when I return, united we will be
It's not the leaving of Liverpool that grieves me,
But my darling when I think of thee