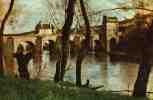 This is a song sung by the stevedores who worked on
the Ohio River. There were two types of river songs. The first was the
fast 'Jump Down Turn Around' type. The other kind was slow and blusey.
That could be because when it came time to load and unload these boats,
it was a pretty busy session. There was lots of time in between to sing
songs like this one.
Lyrics:
[D] Alberta let your [C] hair hang [D] low,[C]
[D] Alberta let your [C] hair hang [D] low,
[G] I'll give you more [Bm] gold than your [F#m] apron can [G] hold
[D] If you'll just let your [C] hair hang low [D]
Alberta what's on you mind
Alberta what's on you mind
You keep me worried, you keep me bothered all the time
Alberta what's on you mind
Alberta don't treat me unkind
Alberta don't treat me unkind
My heart feels sad 'cause I want you so bad
Alberta don't treat me unkind
Alberta let your hair hang low,
Alberta let your hair hang low,
I'll give you more gold than your apron can hold
If you'll just let your hair hang low
Happy Valentine's Day
Roger McGuinn � 1998 McGuinn Music