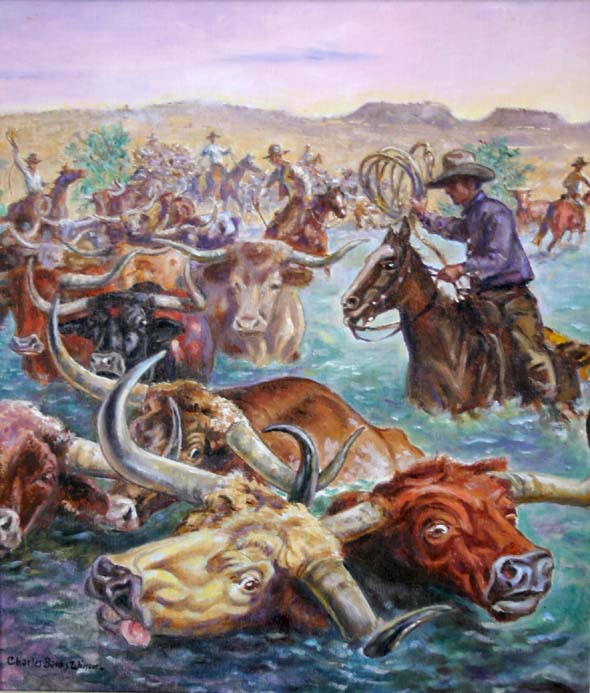 From Wikipedia:
The Chisholm Trail was a trail used in the later 19th century to drive cattle overland from ranches in Texas to Kansas railheads. The trail stretched from southern Texas across the Red River, and on to the railhead of the Kansas Pacific Railway in Abilene, Kansas, where the cattle would be sold and shipped eastward.
The trail is named for Jesse Chisholm who had built several trading posts in what is now western Oklahoma before the American Civil War. He died in 1868, too soon to ever drive cattle on the trail.
Today, most historians consider the Chisholm Trail to have started at the Rio Grande in Texas or at San Antonio, Texas. From 1867 to 1871, the trail ended in Abilene, Kansas. Later, Newton, Kansas, and Wichita, Kansas, each served as the end of the trail. From 1883 to 1887, the end of the trail was Caldwell, Kansas. Ellsworth, Kansas is also considered a major influence of the trail.
In Texas, there were hundreds of feeder trails heading north to one of the main cattle trails. In the early 1840s, most cattle were driven up the Shawnee Trail. The Chisholm Trail was previously used by Indian hunting and raiding parties; it went north from Austin through Waco and Fort Worth. The trail crossed into Indian Territory (present-day west-central Oklahoma) near Red River Station (in present-day Montague County, Texas) and entered Kansas near Caldwell. Through Oklahoma, the Chisholm Trail generally followed the route of US Highway 81 through present-day towns of El Reno and Enid.
On the long trips – up to two months – the cattlemen would face many difficulties. They had to cross major rivers like the Arkansas and the Red, and innumerable smaller creeks, plus the topographic challenges of canyons, badlands, and low mountain ranges. The weather was less than ideal. In addition to these natural dangers, there were rustlers and occasional conflicts with Native Americans if a trail boss failed to pay a toll of 10 cents a head to local tribes for the right to cross Indian lands (Oklahoma at that time was Indian Territory, governed from Fort Smith, Arkansas). Finally, there was the natural contrariness of the half-wild Texas longhorn cattle themselves, which were prone to stampede with little provocation.
Lyrics:
The Old Chisholm Trail
[G] Well come along boys and listen to my tale
Tell you 'bout my troubles on the Old Chisholm Trail
[D] Come a ti-yi-yippie yippie yay [G] yippie yay
[D] Ti-yi-yippie yippie [G] yay
I started up the trail October 23rd
Started up the trail with the 2U herd
Come a ti-yi-yippie yippie yay yippie yay
Ti-yi-yippie yippie yay
Got a ten dollar horse a forty dollar saddle
Goin' down to punch them Texas cattle
Come a ti-yi-yippie yippie yay yippie yay
Ti-yi-yippie yippie yay
Woke up one morning on the old Chisholm Trail
Rope in my hand and a cow by the tail
Come a ti-yi-yippie yippie yay yippie yay
Ti-yi-yippie yippie yay
I'm up in the morning before daylight
Afore I sleep the moon is shining bright
Come a ti-yi-yippie yippie yay yippie yay
Ti-yi-yippie yippie yay
Old Ben Bolt he was a fine old man
You knowed there be whiskey wherever he'd land
Come a ti-yi-yippie yippie yay yippie yay
Ti-yi-yippie yippie yay
It's cloudy in the west a looking like rain
My long coat slicker's in the wagon again
Come a ti-yi-yippie yippie yay yippie yay
Ti-yi-yippie yippie yay
Feet in the stirrups and my seat on the saddle
Hung and rattled with them long horned cattle
Come a ti-yi-yippie yippie yay yippie yay
Ti-yi-yippie yippie yay
The wind commenced to blow and the rain began to fall
Looked like we was gonna lose 'em all
Come a ti-yi-yippie yippie yay yippie yay
Ti-yi-yippie yippie yay
Well I jumped in the saddle grab ahold of the horn
The best balmed cowboy ever was born
Come a ti-yi-yippie yippie yay yippie yay
Ti-yi-yippie yippie yay
Come a ti-yi-yippie yippie yay yippie yay
Ti-yi-yippie yippie yay