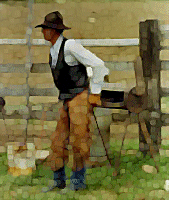 I first heard this song at the Latin School of
Chicago. It was an autumn afternoon and my music teacher, Ms. Ganter and
I were discussing folk music. She had her guitar with her and showed me
this simple but lovely chord pattern. It's in the key of F, but is
played in the D position with a capo on the third fret. The D chord is a
D6 with the open B string and the A7 is played with the open G string.
Lyrics:
D6
I'm going to leave Old Texas now
A7 D6
They got no place for the long horned cow
They've roped and fenced all over the range
A7 D6
And the people there are all so strange
I'll take my horse and I'll take my rope
I'll hit the trail upon a lope
I'll bid adios to the Alamo
I'll turn my face down to Mexico
I'm going to leave Old Texas now
They got no place for the long horned cow
They've roped and fenced all over the range
And the people there are all so strange
� 1999 McGuinn Music – Roger McGuinn