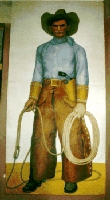 I first heard this song when Hoyt Axton sang it to me
at the Troubadour in Los Angeles in 1962. He wanted me to sing harmony
on it for his recording 'THE BALLADEER,' on Horizon Records, WP 1601.
We recorded it live at the Troubadour later that week, and when it
came out, I was surprised to see the credit 'Here as well is the
delightful Australian folk ballad, Brisbane Ladies, on which Jimmy
McQuinn of the Chad Mitchell Trio harmonizes with Hoyt.'
In spite of the misspelled name, I was glad to have been able to sing with Hoyt. I really loved the song too!
Here's a new recording of Brisbane Ladies done especially for the
Folk Den. The harmony part is the same one I sang on the Hoyt Axton
record.
Lyrics:
(Saul Mendelsohn)
[Em] Farewell and adieu to [G] you, Brisbane [D] ladies
[Em] Farewell and adieu, you [G] maids of [D] Toowong
[Em] We've sold all our [D] cattle and we [C] have to get a [Em] movin'
[Em] But we hope we shall [D] see you [C] again before [Em] long.
cho: We'll rant and we'll roar like true Queensland drovers
We'll rant and we'll roar as onward we push
Until we return to the Augathella station
Oh, it's flamin' dry goin' through the old Queensland bush.
The maids of Toomancie they look so entrancing
Like bawling young heifers they're out for their fun
With the waltz and the polka and all kinds of dancing
To the rackety old banjo of Henry Gunn.
Then on to Nanango, that hard-bitten township
Where the out-of-work station-hands sit in the dust,
Where the shearers get shorn by old Tim, the contractor
Oh, I wouldn't go near there, but I flaming well must!
Then fill up your glasses, and drink to the lasses,
We'll drink this town dry, then farewell to them all
And when we've got back to the Augathella Station,
We hope you'll come by there and pay us a call.
Written by Saul Mendelsohn, printed as a broadside.
repr. Queensland Boomerang, 1891. In most Australian
collections; cf. 'Spanish Ladies'
Tune: Spanish Ladies (minor version)
� 1998 McGuinn Music – Roger McGuinn