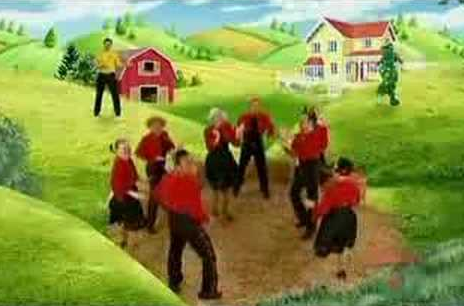 This is a classic children's song and game brought to the United States by German immigrants in the mid 1820s. It has been translated into many languages around the world. In the game the players form a circle and hold hands. One person is selected to be the farmer. The people in the circle move around and the farmer chooses a wife. The wife joins the farmer in the center and chooses the child. They all choose someone until the cheese is left standing alone. It has a
Roud Folk Song Index number of 6306.
My wife Camilla remembers playing this game when she was a little girl in Beaufort South Carolina.
Lyrics:
[G] The farmer in the dell (2x)
Hi-ho, the derry-o
The farmer [D] in the [G] dell
Instrumental:
[Em] [D] [G]
The farmer takes a wife (2×)
Hi-ho, the derry-o…
The farmer takes a wife
Instrumental:
[Em] [D] [G]
The wife takes the child (2×)
Hi-ho, the derry-o…
The wife takes the child
Instrumental:
[Em] [D] [G]
The child takes the maid (2×)
Hi-ho, the derry-o…
The child takes the maid
Instrumental:
[Em] [D] [G]
The maid takes the cow (2×)
Hi-ho, the derry-o…
The nurse takes the cow
Instrumental:
[Em] [D] [G]
The cow takes the dog (2×)
Hi-ho, the derry-o…
The cow takes the dog
Instrumental:
[Em] [D] [G]
The dog takes the cat (2×)
Hi-ho, the derry-o…
The dog takes the cat
Instrumental:
[Em] [D] [G]
The cat takes the mouse (2×)
Hi-ho, the derry-o…
The cat takes the mouse
Instrumental:
[Em] [D] [G]
The mouse takes the cheese (2×)
Hi-ho, the derry-o…
The mouse takes the cheese
Instrumental:
[Em] [D] [G]
The cheese stands alone (2×)
Hi-ho, the derry-o…
The cheese stands alone
Instrumental:
[Em] [D] [G]
The farmer in the dell (2x)
Hi-ho, the derry-o
The farmer in the dell
Instrumental: X3
[Em] [D] [G]
(c) McGuinn Music 2016
New Music By Roger McGuinn