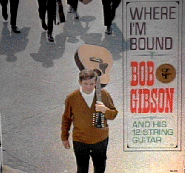 I got a letter from Bob Gibson the other day:
'From the Computer of … Bob Gibson
August 15, 1996
Dear Friends,
As my health has declined, I have found that I may miss
music more than anything else. I miss making music,
listening to music and being around others who have
music in their blood. So, I'm going to have a party and
invite everyone to bring their voices, instruments and
songs!
Please join me, just north of Chicago, at the Sheraton
North Shore on Friday, September 20, 1996 to visit and jam!
I've arranged for a small sound system, a no host bar,
light refreshments, and a view of the Chicago skyline. I
would like to see you, hear you and just say hello.
This may be the last chance I have to see many of you. I
am finding it increasingly difficult to do the simplest
things and traveling is really a challenge. I won't be
able to play and sing with you, but I'm really looking
forward to being an audience of one! Please RSVP to my
daughter Susan by September 15, 1996.
I hope to see you there.
Bob
John Brown and Spanky McFarlane wrote a new
version of 'Sweet Betsy From Pike' for this
occasion.
I won't be able to attend, but I wanted to sing
their song, here in the Folk Den for Bob.
The capo is on the third fret.
'Bobby From Chi'
To the tune of 'Sweet Betsy From Pike'
Lyrics by: John Brown & Elane McFarlane
Lyrics:
C Em F C
Oh don't you remember sweet Bobby from Chi?
C Am Dm G
He sang in a cellar, a folk-singin' guy
F
He picked on the banjo and 12-string guitar
C Em F C Em Am G
At the old Gate of Horn, what a wonderful bar!
And down in that cellar, all smoky and damp
He sang of Old Blue with young Bobby Camp
The crowd was ecstatic, my gosh what a scene
With liner notes written by Shel Silverstein
They gave the old folk songs a twist that was new
Camp hollered 'I'm sorry your mother turned blue'
In three-button suits they were polished and lean
They kept off the weight with that pure methadrene
Now all us young folkies thought Bob was the rage
We'd sneak in the 'Gate' and we'd sit near the stage
But we didn't go there just lookin' for kicks
We'd check out his changes and copy his licks
Oh don't you remember sweet Bobby my friend?
We'll be playing your music from now 'til the end
Now here's to you Bobby, a toast from the heart
Make Saint Peter smile with that 12-string guitar