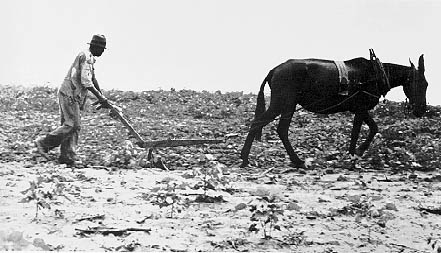 Sharecropper working with one-horse plow,
Green County, Georgia, July 1937.
Photo by Dorothea Lange, Farm Security Administration
This is a fairly new folk song. The Boll Weevil didn't come to Texas from Mexico until around 1900. Sharecroppers who sang this song took delight in identifying with this nearly indestructible insect. It gave them great hope!
Barry McGuire was visiting the Folk Den and we sang The Ballad of the Boll Weevil together, trading verses. McGuinn & McGuire – sit and sing by the fire. To read more about Barry McGuire's visit, check out Roadie Report 30
Lyrics:
The Ballad of the Boll Weevil
[G] The Boll Weevil is a little black bug come from Mexico they say
[C] All the way from Texas, just a-lookin' for a place to [G] stay
[D7] Just a-lookin' for a home, [G] just a-lookin' for a home
[C] Just a-lookin' for a home, [G] just a-lookin' for a home
[D7] Just a-lookin' for a home, [G] just a-lookin' for a home
The first time I saw the boll weevil he was sitting in the square
The next time I saw the boll weevil he had his whole family there
Just a-lookin' for a home (X6)
The farmer took the boll weevil and put him in the hot hot sand
The boll weevil said "This is mighty hot but I'll stand in it like a man"
This'll be my home (X6)
The farmer took the boll weevil and put him in a lump of ice
The weevil said to the farmer " Man! This is mighty cool and nice"
This'll be my home (X6)
The boll weevil said to the farmer "You can ride that Ford machine
But when I get through with your cotton field you won't buy no gasoline
You won't have no home" (X6)
The merchant got half the cotton the boll weevil got the rest
He didn't leave that farmer's wife but one old cotton dress
And it was full of holes (X6)
The Boll Weevil is a little black bug come from Mexico they say
All the way from Texas just a-lookin' for a place to stay