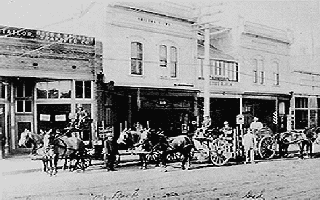 Last week, I had the pleasure of performing at a
tribute concert for The Harry Smith Anthology, sponsored by the
Smithsonian, The Folk Alliance, and the Rock and Roll Hall of Fame.
It was a wonderful night of music and re-acquaintance with old
friends. Ella Jenkins was there, whom I hadn't seen in over thirty
years, as well as the New Lost City Ramblers, and new friends, Jeff and
Jay from Wilco.
This is one of my favorite songs from the Anthology. It's one of
those melodies that stays with you long after you've heard the song.
The original recording is from 1928, by Buell Kazee, with just vocal
and 5-string banjo. I have done it again, keeping the sound as close to
the original as possible.
The format is interesting; the first verse is by a narrator, the
second by the girl, the third by the boy and the fourth and fifth verses
are split between the boy and girl.
She's trying to talk the Wagoner's Lad into staying with her, and he's dead set on leaving.
Lyrics:
[G] Oh hard is the [C] fortune of all women [G] kind.
They're [D] always [G] controlled, they're always [D] confined
Controlled by their [G] parents until they are [D] brides
Then [C] slaves to their husbands for the rest of their [G] lives
Oh I am a poor girl, my fortune is sad
I have always been courted by the wagoner's lad
He courted me daily both by night and by day
And now he is loaded and going away
Your parents don't like me because I am poor
They say I'm not worthy of entering your door
I work for my living, my money's my own
And if they don't like me they can leave me alone
Your horses are hungry, go feed them some hay
Come sit down beside me as long as you may
My horses ain't hungry, they won't eat your hay
So fare thee well darling, I'll be on my way
Your wagon needs greasing, your whip's for to mend
Come sit down beside me as long as you can
My wagon is greasy, my whip's in my hand
So fare thee well, darling, no longer to stand
� 1998 McGuinn Music – Roger McGuinn