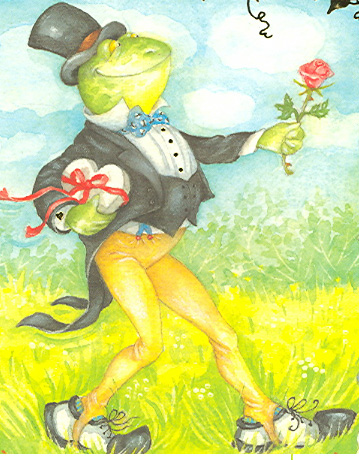 "King Kong Kitchie Kitchie Ki Me O" is a version of the old English song "Frog Went A-Courting." Its first known appearance is in Wedderburn's Complaynt of Scotland (1548) under the name "The frog came to the myl dur." There is a reference in the London Company of Stationer's Register of 1580 to "A Moste Strange Weddinge of the Frogge and the Mouse." The oldest known musical version is in Thomas Ravenscroft's Melismata in 1611.
Spaeth has a note claiming that the original version of this was supposed to refer to the Duke of Anjou's wooing of Elizabeth I of England. If the second known version (1611, in Melismata, also reprinted in Chappell) were the oldest, this might be possible — there are seeming political references to "Gib, our cat" and "Dick, our Drake." But the Wedderburn text, which at least anticipates the song, predates the reign of Queen Elizabeth by nine years, and Queen Mary by four. If it refers to any queen at all, it would seemingly have to be Mary Stuart; Evelyn K. Wells however, in the liner notes to the LP Brave Boys; New England traditions in folk music, (New World Records 239, 1977) suggests that the original may have been satirically altered in 1580 when it was recorded in the register of the London Company of Stationers, as this would have been at the height of the unpopular courtship.
I first heard this song on the Harry Smith Anthology:
Chubby Parker, "King Kong Kitchie Kitchie Ki-Me-O" (Columbia 15296D, 1928; on Anthology of American Folk Music, CrowTold01) (Supertone 9731, 1930) (Conqueror 7889, 1931)
Drawing by Iza Trapani

Source: Wikipedia.
Lyrics:
[G] Froggie went a courting and he did [D] ride
[G] King kong kitchie kitchie [D] ki-me-o
[G] With a sword and a pistol by his [D] side
[G] King kong kitchie kitchie [D] ki-me-o [G]
[G] Ki-mo-ke-mo ki-mo-ke
[C] Way down yonder in a hollow [D] tree
[G] An owl and a bat and a bumble [D] bee
[G] King kong kitchie kitchie [D] ki-me-o [G]
He rode 'til he came to miss mousie's door
King kong kitchie kitchie ki-me-o
And there he knelt upon the floor
King kong kitchie kitchie ki-me-o
Ki-mo-ke-mo ki-mo-ke
Way down yonder in a hollow tree
An owl and a bat and a bumble bee
King kong kitchie kitchie ki-me-o
He took miss mouse upon his knee
King kong kitchie kitchie ki-me-o
And he said little mouse will you marry me
King kong kitchie kitchie ki-me-o
Ki-mo-ke-mo ki-mo-ke
Way down yonder in a hollow tree
An owl and a bat and a bumble bee
King kong kitchie kitchie ki-me-o
Miss mouse had suitors three or four
King kong kitchie kitchie ki-me-o
And there they came right in the door
King kong kitchie kitchie ki-me-o
Ki-mo-ke-mo ki-mo-ke
Way down yonder in a hollow tree
An owl and a bat and a bumble bee
King kong kitchie kitchie ki-me-o
They grabbed mr. frog and began to fight
King kong kitchie kitchie ki-me-o
In the hollowed tree it was a terrible night
King kong kitchie kitchie ki-me-o
Ki-mo-ke-mo ki-mo-ke
Way down yonder in a hollow tree
An owl and a bat and a bumble bee
King kong kitchie kitchie ki-me-o
Mr. frog brought the suitors to the floor
King kong kitchie kitchie ki-me-o
With the sword and the pistol he showed all four
King kong kitchie kitchie ki-me-o
Ki-mo-ke-mo ki-mo-ke
Way down yonder in a hollow tree
An owl and a bat and a bumble bee
King kong kitchie kitchie ki-me-o
They went to the park on the very next day
King kong kitchie kitchie ki-me-o
And left on their honeymoon right away
King kong kitchie kitchie ki-me-o
Ki-mo-ke-mo ki-mo-ke
Way down yonder in a hollow tree
An owl and a bat and a bumble bee
King kong kitchie kitchie ki-me-o
Now they live far off in a hollow tree
King kong kitchie kitchie ki-me-o
Where they now have wealth and children three
King kong kitchie kitchie ki-me-o
Ki-mo-ke-mo ki-mo-ke
Way down yonder in a hollow tree
An owl and a bat and a bumble bee
King kong kitchie kitchie ki-me-o