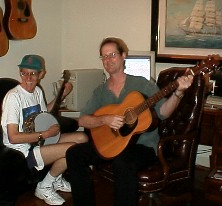 Frank Hamilton, and his wife Mary stopped by the house to say hello. I hadn't seen Frank since the mid 60's in Los Angeles, and we had a great time catching up, although we barely scratched the surface.
Frank had taught me to play guitar, and banjo at the Old Town School of Folk Music, in Chicago, from 1957 to 1960.
He showed me a song that he'd performed with the Weavers, and said that Pete Seeger had bemoaned the fact that this song hadn't been published in Singout, and that it was in danger of getting lost. That makes it an ideal candidate for the Folk Den.
Here are Frank and Mary Hamilton singing The Brazos River, with me playing 12-string and banjo backup.
Lyrics:
A D A
The cool Angelina runs lofty and gliding
A F#m B7 E
The crooked Colorado runs weaving and winding
A F#m D A
The Red River runs rusty, the Wichita clear
A F#m E A
But Down by the Brazos, I courted my dear
A D A E
I la lie lee lee lee give me your hand
A D A E A
I la lie lee lee lee give me your hand
A D A E
I la lie lee lee lee give me your hand
A D E A
There's many a river that waters the land
She hugged me and she kissed me
And she called me her dandy
The Brazos is muddy,
And sometimes quick sandy
She hugged me and she kissed me
And called me her own
But down by the Brazos
She left me alone
Now the girls of them rivers
They're plump and they're pretty
The Supine and the Sulfur
Have many a beauty
I may wander the rivers
And many a shore,
But down by the Brazos
I'll wander no more
I la lie lee lee lee give me your hand
I la lie lee lee lee give me your hand
I la lie lee lee lee give me your hand
There's many a river that waters the land X2